Your journey to the own app concept
---
Having an app developed without a rough concept can neither be a quick to implement nor a cost-effective project. For that reason, we are starting an app development project with an app concept. You can imagine it this way: You start a journey by car from A to D, with stops in B and C. If you start your journey without any planning and you just sit in your car without thinking about the way and the money, you will reach your destination. Until then it may take a while, many unexpected complications may occur, and your wallet may also be strained. In the worst case you have to end your journey at a stopover, because you have no money left. Or what will you do when you suddenly run out of fuel or your wheel bursts? Do you have a spare tire with you?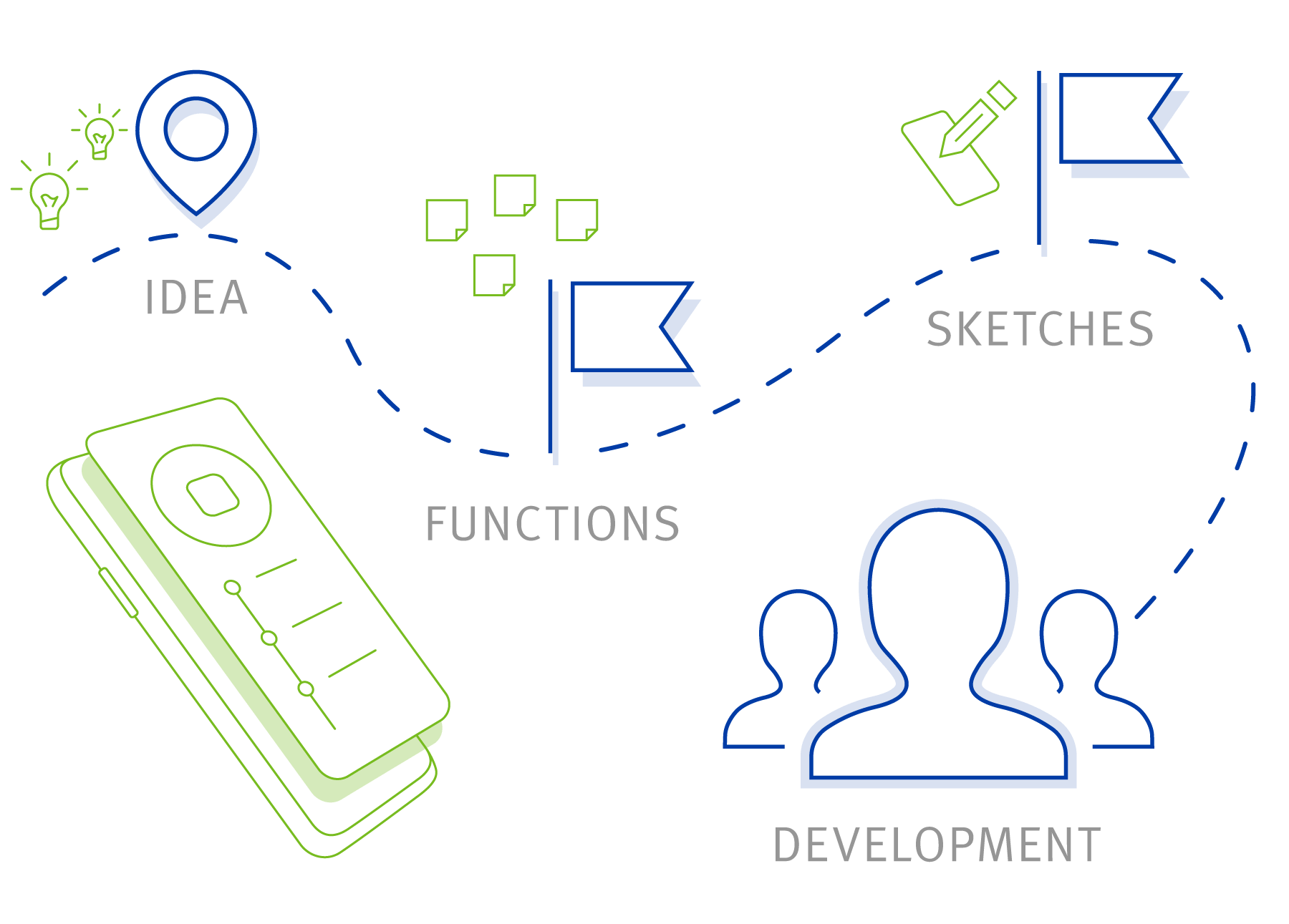 In this blog post we would like to guide you through the stops on your journey to your app concept, so that you finally arrive at your dream destination: your application on the smartphone screen. If you still need inspiration for your plans and want to know what  app development in 2019 is all about, you can read the blogpost about app trends from our app expert Darko here.
Your app roadtrip starts with answering basic questions that you should ask about your idea, similar to a car trip: How much baggage do I take with me? How much money should I pack? As soon as you have answered these questions, you are ready to go. See you at the first stop!
There, it's about the future functions of your app. Have they already been clarified? Then get in and we come to the next stop. Here you form your functions and visualize your thoughts. The last step, the goal of your road trip, is pretty much the most important – the search for the right development team. Now let's start with the questions about your app idea.

It all starts with the idea
In the beginning there is the idea. Before you jump right into the functions of the app, you have to ask yourself important questions about the project in the first step. In order for your app to attract a lot of interest in the highly competitive App Store in the future, your idea has to be analyzed for the first time. If you don't find clear answers to the following questions right away, take the time to think about it and formulate them in detail.
Target: Which monetary and/or entrepreneurial targets do I pursue with my app?
Target group: Who will be my future users?
Problem: Which problem do I want to solve with my app? What user needs does my app meet?
Competition: Are there competing apps on the market that offer the same benefits? If so, what is the difference between my application and these?
Added value: What added value does my app bring to users?
Budget: Does my wallet allow the realization of an application? "Depends on (…)" – you will hear from many service providers. The same goes for us – the costs depend on the requirements and wishes you have for your app. As a guideline we can tell you the initial costs of about 10.000 €.
When you have answered all these questions, you are already a big step closer to your app concept. This is not enough, but you are on the right way! Now it goes on to the functionality of your planned app.

Which functions your app should have – stick your functions!
At the beginning of the introduction of your app, it is not the scope of your functions that matters, but that the functions contained in the first version work perfectly. This requires a as clearly as possible defined range of functions – it helps if you sort the app functions into two ranges: Which functions contribute to the core experience of your app and which functions can be implemented as additional functions in the next development step? Hint: write each function on a small piece of paper or a post-it and then organize each function into two areas: Basic functions and additional functions.
Have a look at it from the user's perspective. The aim of this stage is to structure the range of functions in a meaningful, hierarchical way in order to define the basic functions as comprehensibly, simply and completely as possible. Features that are not part of the core experience of your app represent the additional functions and, if desired by the user, will be implemented in the next step.
At the beginning of your journey from the app idea to the finished app concept, there is a small but correctly functioning prototype composed of basic functions (usually also called Minimum Viable Product).

How your app should look like – sketch your app!
Drawings say more than a thousand words – so it's a good idea to put your ideas on paper and start thinking about the design of your app. With the sketches, the most important functions and requirements of your own app are visualized again. They also give you an initial idea of the interface and design of the app. It is important that you pay attention to the following points:
Basic functions first: After you have sorted your functions into two areas, you start with the sketches of your basic functions. "Keep it simple" is the key. The more functions you add to your app, the more the user has to find his way around the navigation jungle. Don't confuse your users.
Well thought-out design: The very best app concept is useless if the future user doesn't feel addressed by the design of the application. With the design your app gets a face – with the aim that you fascinate the user with a great look and feel. The design of your app should be adapted to your corporate design and contain the most important elements and colors.
User experience and accessibility: Many apps are unsuccessful due to their poor usability. Often the buttons are too small for the finger, many images are too big or text too long to read on the smartphone screen. The user is distracted and no longer concentrates on the essentials. "Horror vacui" is a phenomenon which describes that one is afraid to not add enough content in his app. But this is exactly the wrong way. Concentrate on your call-to-action buttons. That's why you need to involve prospective users in every phase and every screen of your sketch creation and get feedback on an ongoing basis to ensure a smooth app experience.

Find the perfect developer team – final sprint!
On the last few kilometers of your journey you should really move up a gear again. Your journey to your app concept ends with the search for a suitable development team. If you are still looking for a team, we will be happy to support you with the implementation. If you need an initial consultation, we are here for you as well. Just send us an email to apps@anexia.tech.