JOACHIM ECKERL: .NET WIZARD WHO MAKES GIRLS FLY
---
Joachim: here is somebody who loves to laugh and people love to laugh with him. And not only is Joachim a cheerful presence to have around, but this ardent rock'n'roll dancer is also our .NET technical lead at Anexia and expert on everything that has to do with developing with it.
We met Joachim in our Vienna office, where he told us why Microsoft made a quantum leap with .NET and how the developer team collaborates between its different locations. On top of this, Joachim explained why he's happy to leave home for a while and get some fresh air: Joachim is from Lower Bavaria and has moved to Vienna some years ago.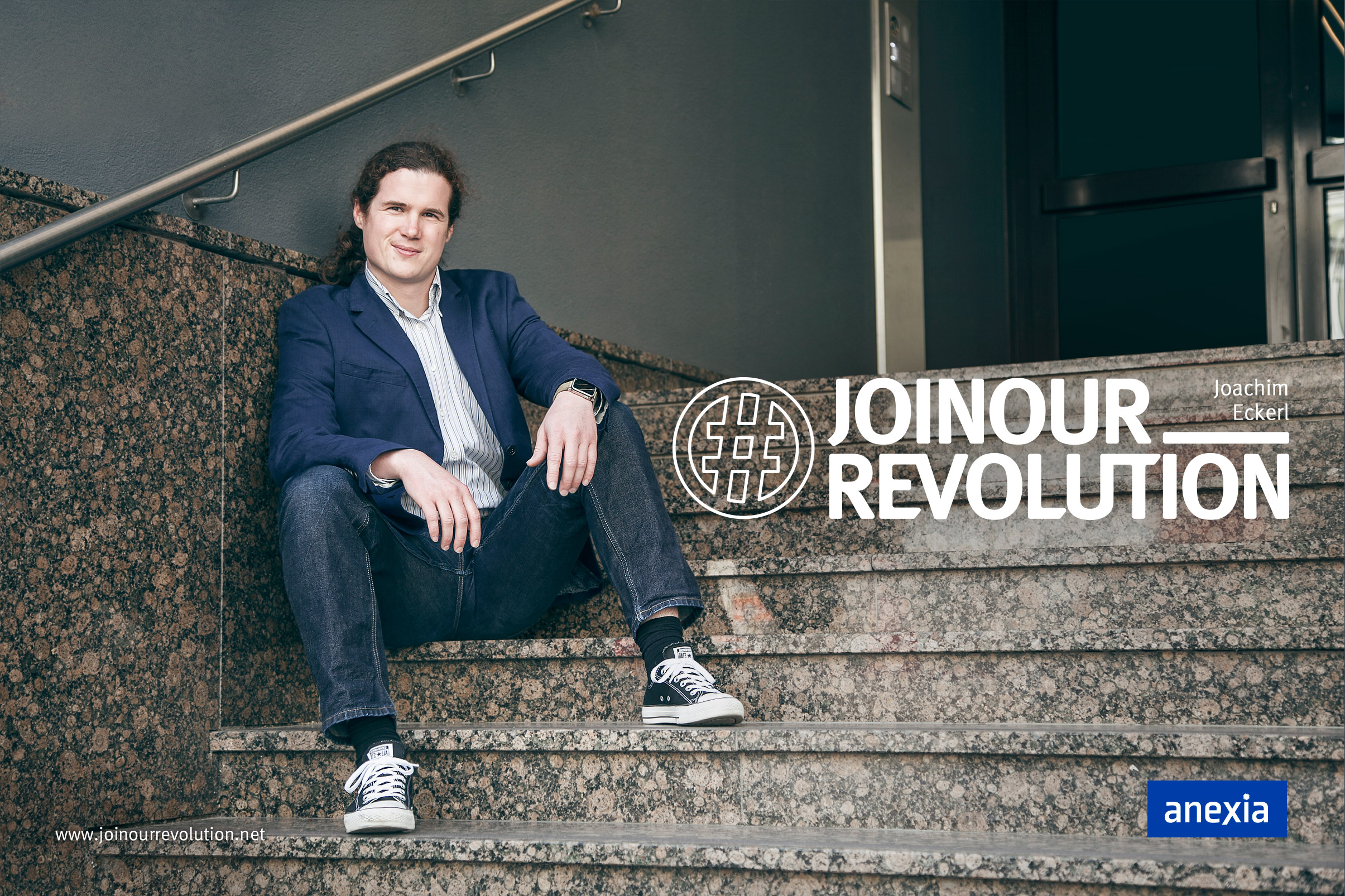 ---
Who are you and what do you do at Anexia?
My name is Joachim Eckerl. I've been with Anexia in Vienna for a good year and a half now. I do .NET developments and support customers in this area. For example, I am the customer advisor for Der Standard and look after the distribution of tasks for the team allocated to this customer. Recently I also became the technical lead for .NET. This means I ensure that people know about the technical innovations we work with and arrange training events specially for this area.
From your accent I assume you're not from Vienna. How do you feel here, coming from Lower Bavaria?
Well, lots of nice people here. Once you've come to understand the mentality, you get along really well. You learn not to take the grumpiness or grouching of the Viennese personally – it just seems to belong here. [laughs] I like it here very much.
And what exactly is .NET?
Umm – it isn't a programming language as such, but rather a collection of libraries. It is a collection of code snippets that Microsoft provides via the .NET Framework. We can use them in various .NET-based languages such as C# or Basic.
The introduction of the .NET Framework was a real quantum leap that Microsoft had made in development. In my view it was a stroke of genius on their part, to make so many libraries available.
What projects or software is .NET most suited to?
Everything! [laughs] This is what we also like to say during job interviews: we can make anything except games. We make web applications – the entire Anexia development team is involved in this, of course – but we also have various projects related to desktop applications. But we have to move with the times, and it's the same in .NET development – everything is moving towards the web. The relevant technologies have been updated now and then. It seems incredible, but even Microsoft is still developing.
How many people are on the .NET team?
We are a total of nine developers. Just recently we grew significantly, and we're still looking for further support in Vienna and Klagenfurt.
Why has the team grown so suddenly and why is it still growing? Can you explain?
For the most part, we have ongoing projects in which we support the customers and implement changes. A website, for example, isn't something static. It needs to be maintained and updated on a regular basis. And suddenly one day it looks old-fashioned because now everyone's started having round buttons or goodness knows what.
But the more long-term projects we take on, the more employees we need to handle them. Often the projects also come in stages, meaning we have to turn them down because we just haven't got the resources. That's a pity, of course.
But you aren't only a developer – you also support customers. Do you prefer one role over the other?
Not really; this situation is ideal for me, being able to do both. I enjoy working with customers, being receptive to their wishes and putting them into practice as project requirements. And I also really like the coding itself. Being with the customers all the time would become too boring for me. What I like is the variety.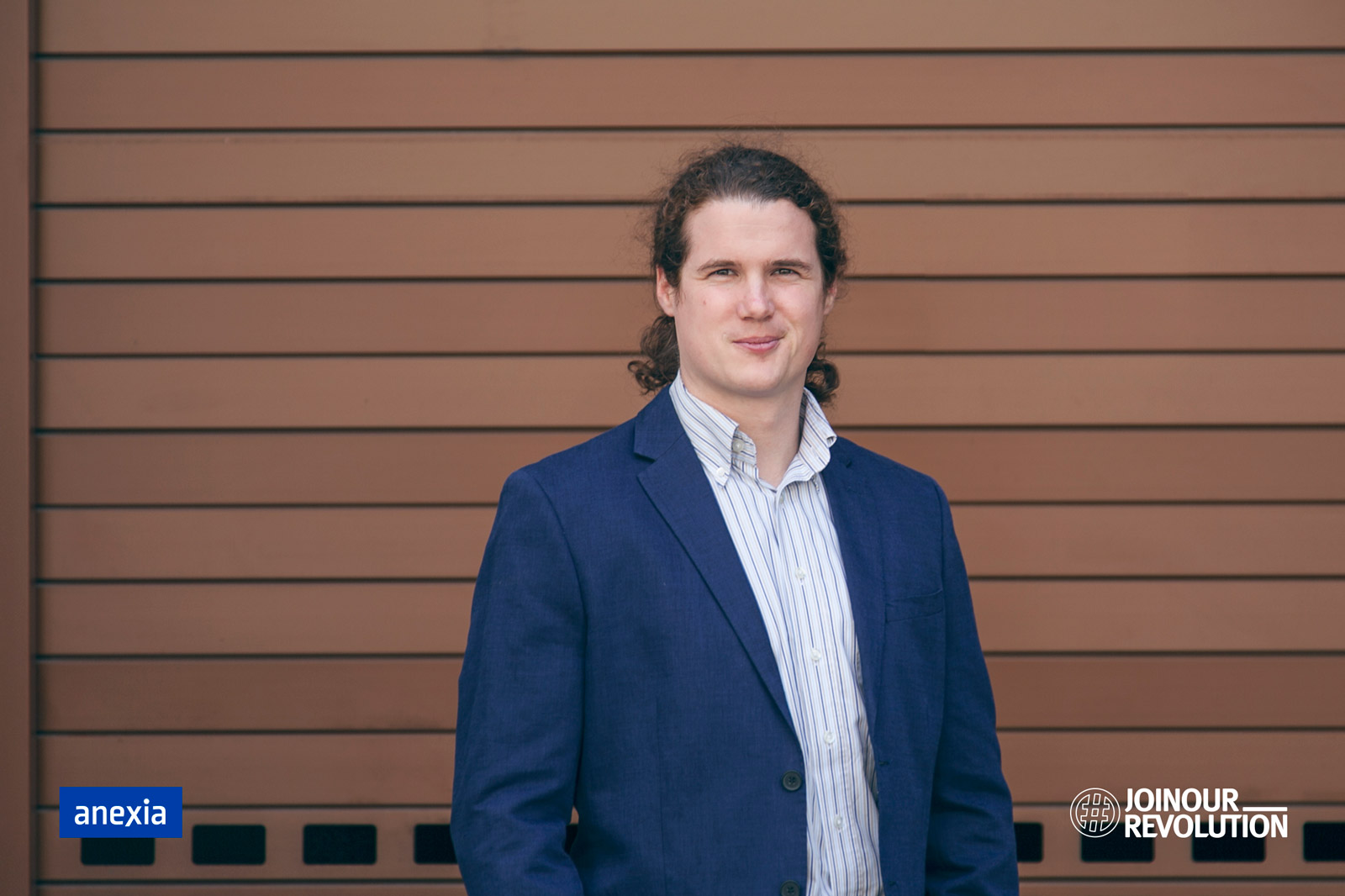 Now can we talk a little about how you came to be doing what you're doing now? What did you study at college?
Back in Bavaria I completed an apprenticeship as an IT specialist specializing in application development. After this I went straight into the profession and have now been working for 13 years. And so I haven't actually been to college. I did once start a degree, but then realized that it wasn't getting me very far. And I haven't managed to do much alongside my work. And that's how it is: I have simply kept myself up-to-date and done my own training. That's what most software developers do.
That business of giving up your studies – it seems like a very Anexia kind of thing…
Well, yes, in IT you don't necessarily need to have been to college, as long as you've got the motivation needed and keep yourself up-to-date and see to your own training. It soon becomes clear who has what it takes and who doesn't.
Did you always know that you wanted to get into software development?
When I was a teenager I thought about becoming a kindergarten teacher. But after I opted for the IT training I applied myself to it completely. And it really is my thing.
And how did you end up as a .NET developer?
As a developer you can't do everything – the spectrum of what's available is just too wide. So you have to specialize in something, and in my case it was the .NET area. Back then I remember the .NET Framework being introduced by Microsoft. At the time it was a real quantum leap that Microsoft had made in development. In my view it was a stroke of genius on their part, to make so many libraries available. There has never been anything like it in other programming languages or development environments. Others then began to follow suit, but it was Microsoft – unusually – that was first.
A couple of you developers are based in Vienna, while your other colleagues are in Klagenfurt. How do you function as a team?
We do most of it simply by calling. In development you don't necessarily have to all be in the same place. It's only when somebody is undergoing orientation on a project that it can be useful to be able to sit at the same PC, but even this isn't absolutely necessary. So our collaboration between the Vienna and Klagenfurt sites and with external parties really works very well.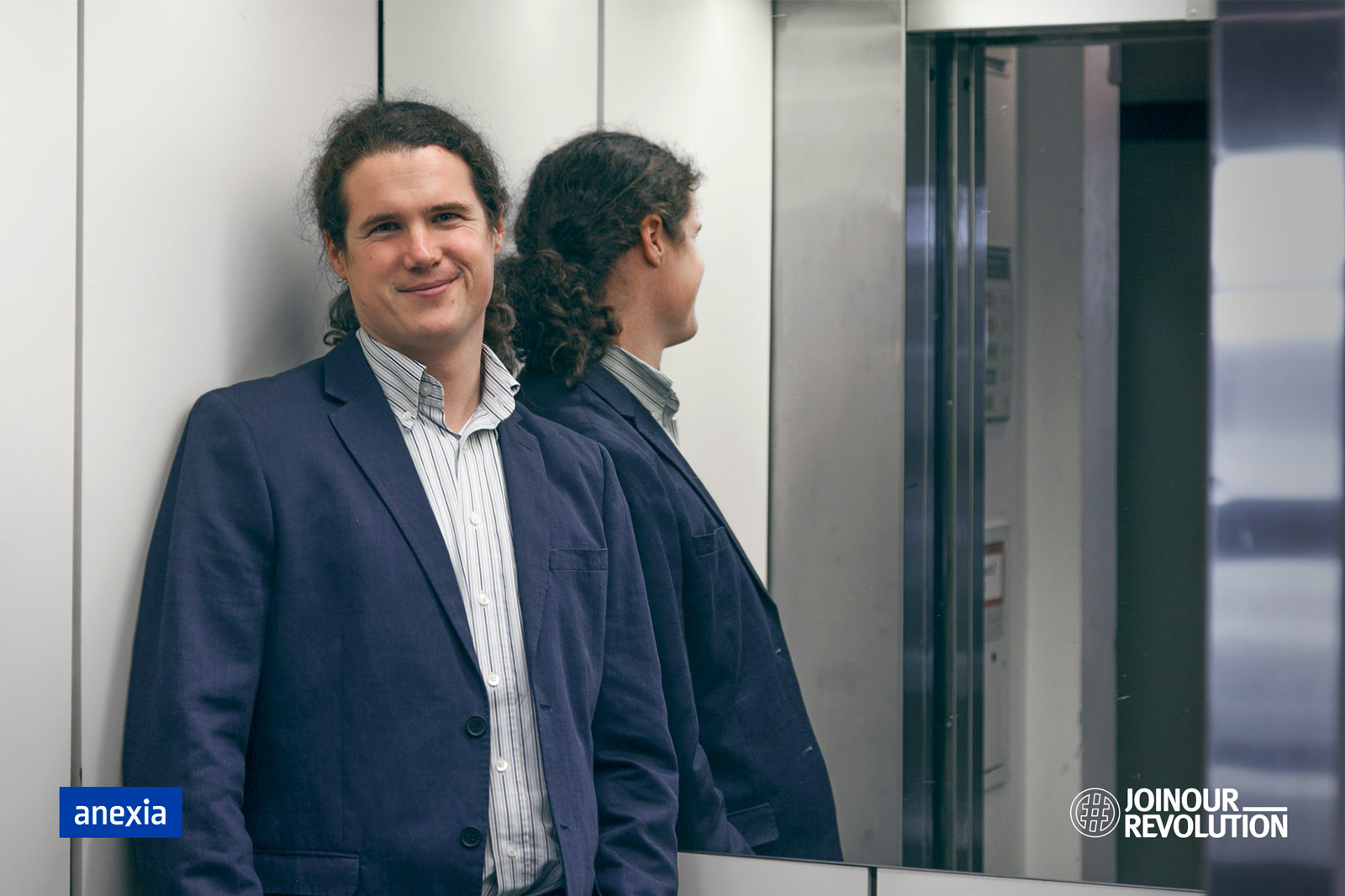 If somebody wanted to become a .NET developer today, what skills would they need?
Above all, you must be able to think logically for development work. Apart from that, it's a matter of being interested in the subject and having a certain tenacity to want to stick with it. Sometimes you have to be able to really get engrossed in something – it may be the solution to a problem in a project, or perhaps part of your training or CPD. You just have to stay on the ball and see things through, even when the going gets tough. The result is normally more than worth the effort.
You must be able to think logically for my job.
All this is true for any developer.
Correct. It's just that with .NET development you have to manage without hating Microsoft [laughs]. It's not easy, in fact, to find good .NET developers. Right now, for instance, we're desperately looking for someone with experience. While I meet good .NET developers all the time, sadly they are all really happy in their current jobs. [laughs]
Is a degree or training required?
Sure, training or an apprenticeship would be helpful, but again, in the IT industry it isn't essential. Still, it isn't a bad thing for getting to the shortlist, because it's usually the people without IT training who don't make it. But a degree isn't necessary. I mean, I never completed one. So there you have it… [laughs]
And to wrap things up, I've heard that you're looking for new colleagues in more places than just Anexia. You are also involved in a kind of sport where new club members are always welcome.
Yes, my passion is rock'n'roll dance – it's my life and I've done it since I was eight. While I love dancing, what we actually do can only be loosely defined as dancing. It's more like acrobatics in pairs: making girls fly, that sort of thing. We train hard and this is my counterbalance to work. I need to exercise and move around somehow, otherwise I don't feel well.
And yes, of course, we are always short of men, as is probably the case with all kinds of dance sports, so we also call it "acrobatic gymnastics." That simply attracts more guys. [laughs]
Joachim, I'm crossing my fingers that you find the support you need – for .NET development at Anexia and for the rock'n'roll dancing.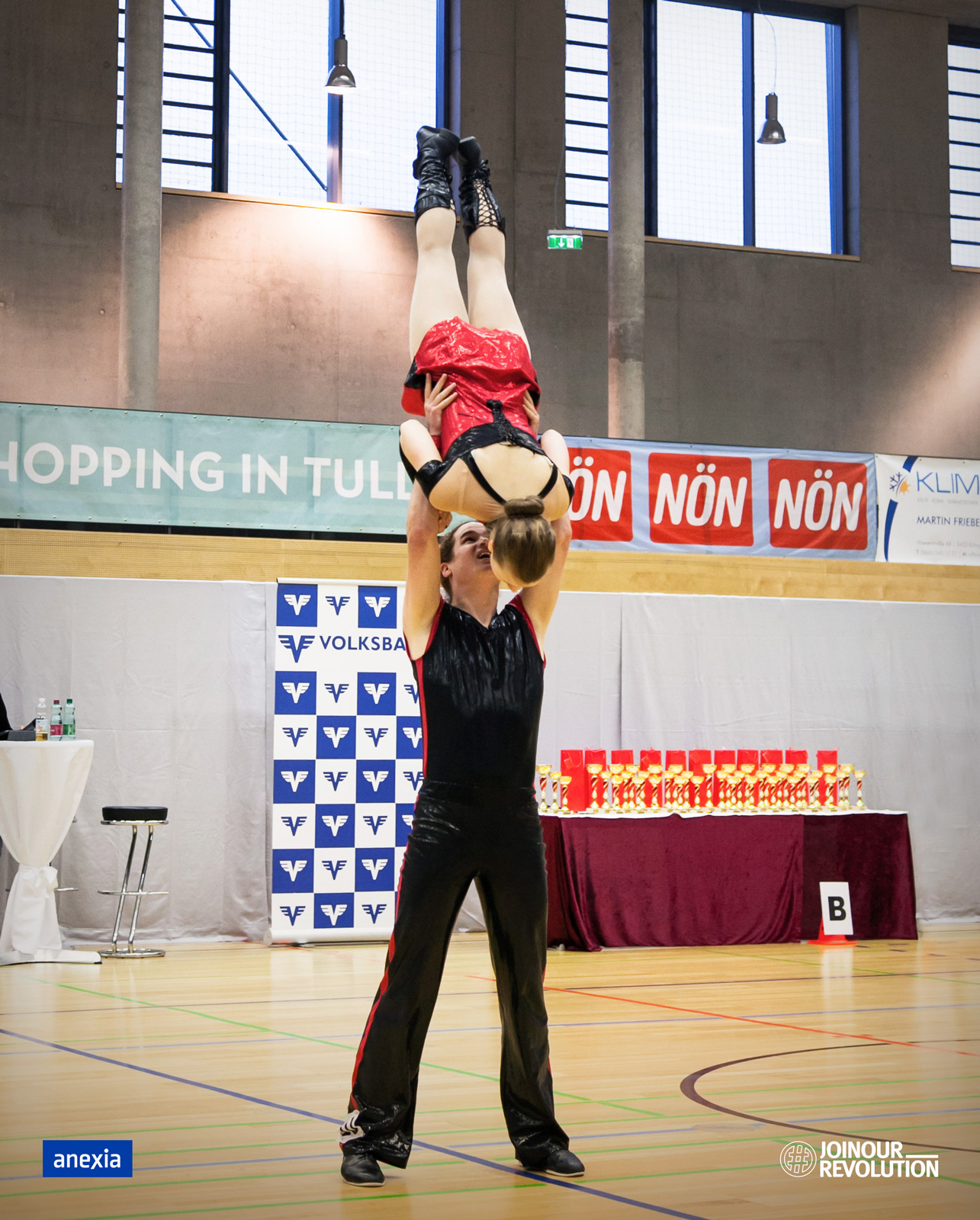 ---
An expert in his field, always on the ball and always a bundle of positive energy for the team: we are always pleased to take on people like Joachim in our Anexia family. Do you excel in your field and are you good-natured and good in a team? If so, take a look at our vacancies and #joinourrevolution: