Jürgen Hämmerl: "I haven't regretted my decision for a single day"
---
Not everybody can handle countless orders, phone calls and conversations every day and still keep track of things. But this is no problem for Jürgen, Technical Leader of Transition. What you don't know: The father of three originally wanted to do something totally different: he wanted to be a media designer.
We took the Anexia summer festival as an opportunity to interview our Regensburg-based colleague. In this #joinourrevolution interview, he'll tell you why he decided to embark on a different educational path and why he still needs to be creative in his current job.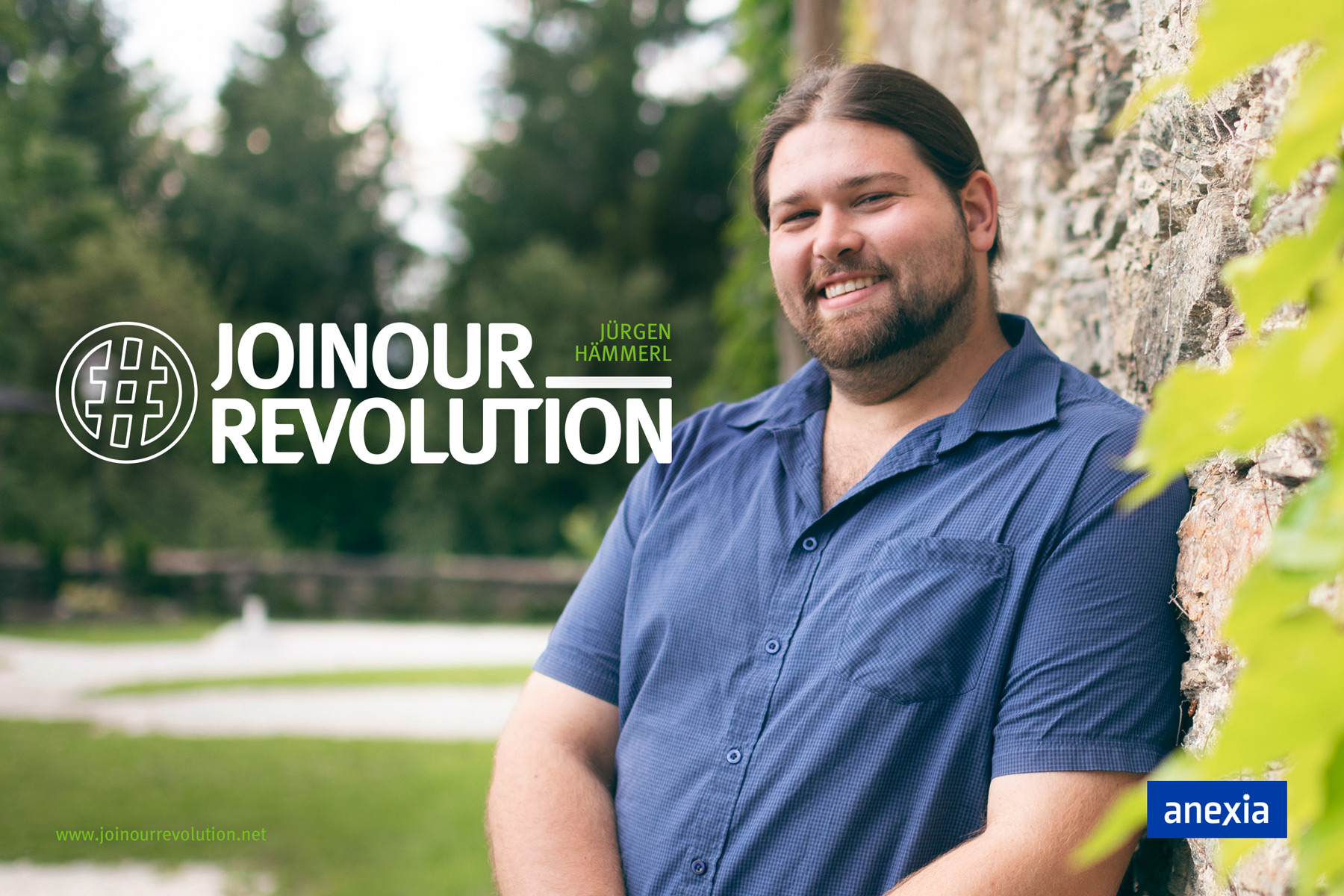 ---
Could you briefly introduce yourself: Who are you and what do you do at Anexia?
My name is Jürgen, I'm 28 years old and come from Bavaria, or the Upper Palatinate to be more precise. I work in the Transition and Service Design department as Technical Leader of Transition.
Transition and Service Design: I have a few questions about that. What does your department do and what exactly is transition?
Well, this would be the best way to describe it: Our orders come in regularly through our sales department. Before our department existed, the orders went straight to the technical department and were processed there. As our company is continually growing, this doesn't work anymore, which is why we're here now. We coordinate between the sales department and the technical department. You could compare us to project management, except that we are involved on both an organizational and a technical level. We talk to our customers, we design environments together with the customer in the area of consulting, we size them and ultimately lay the groundwork for the offers, which the sales department then sends to the customer. We also talk to the customers when something is missing and give them tips on how to potentially protect their infrastructure. The word 'transition' comes from ITIL. ITIL is a process landscape for IT and transition is, so to speak, the task.
The fact that we are a big company means that we need a coordinator and that's my job.
What are your areas of responsibility as Technical Leader of Transition?
The department has several transition engineers who process the orders. Although all of them work independently, the fact that we are a big company means that we need a coordinator. That's my job and of course I do some of the work myself.
What does an average work day look like for you?
I'm on the phone a lot. Since I'm the Technical Leader, I also deal with escalations. I get involved when it's not too late, but the customer is starting to get annoyed. Otherwise, no two days are the same and I find that very interesting. Of course there's a general plan of action, which we regularly discuss and coordinate within the team, especially since we're so far apart. However, practically speaking, every day is different. That's what I like about Anexia. We have an extremely wide range of products and services.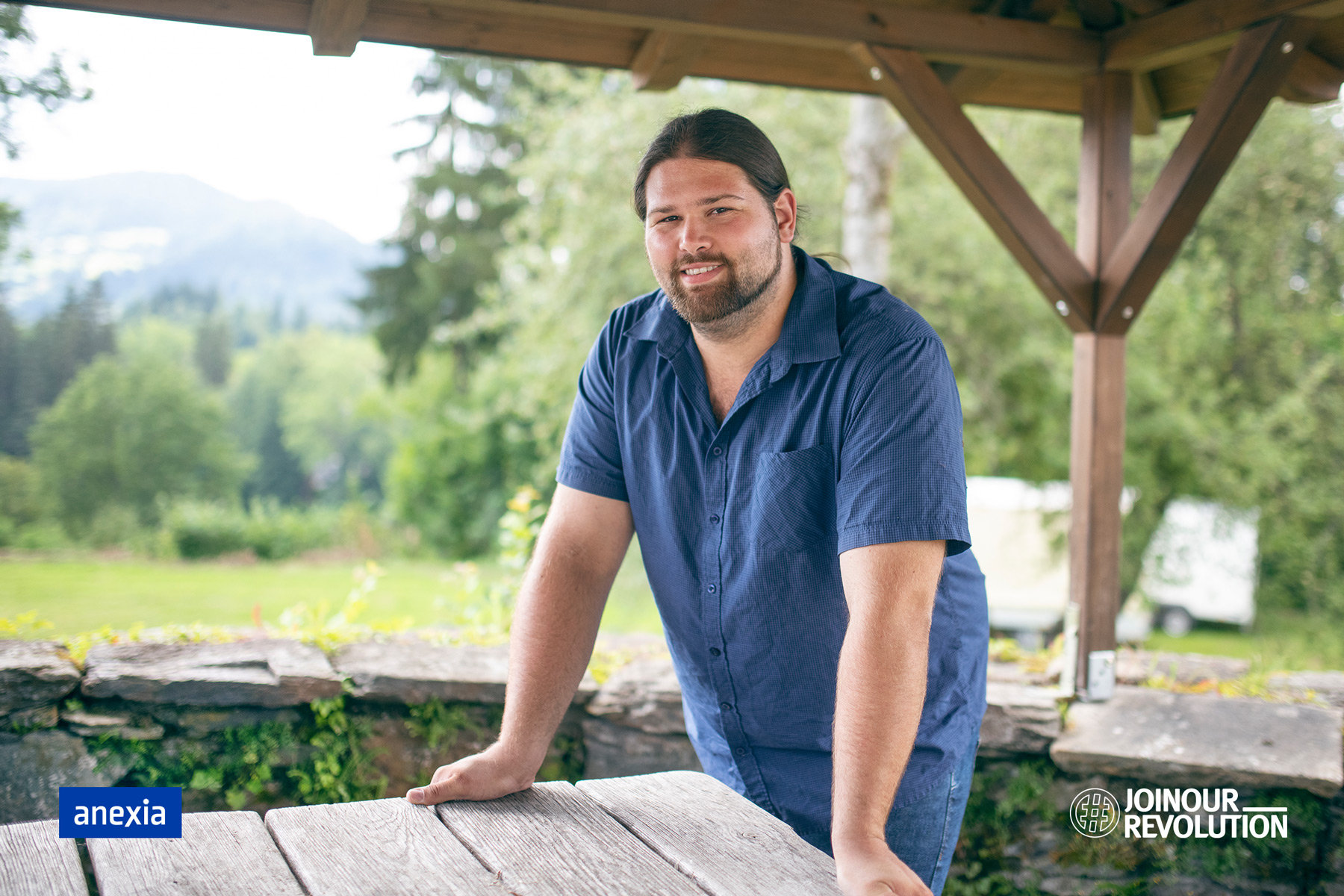 Your team is spread out over many different locations. Many of you work from home. How do you communicate with each other?
We phone each other regularly. As our department is subdivided into Service Management and Transition, both divisions coordinate their activities separately. During these calls, we discuss current topics that require particular attention: if someone needs help or if something gets out of control. Sometimes my boss Christian (Head of Transition & Service Design, editor's note) and colleagues come to Regensburg. Since teamwork is key for us, we try to get together as a team from time to time to discuss everything again. What can we do better? What has worked well? What hasn't worked so well? We are always aiming to improve.
How many people are on your team?
There are ten of us on the team, including me. 4 engineers – I count myself as one of them -, two service managers and two management assistants, who work both in Service Management and with us. They arrange appointments with the customer. We also have a Service Process Specialist and, of course, our Head of Transition & Service Design.
What qualifications do you have?
I trained as an IT specialist in system integration with a medical company who carry out drug tests and the like. The work was extremely diverse since I often worked independently during the training program. I also worked as a regular employee in Customer Support, at the helpdesk for in-house projects, etc. Although I was only involved in internal IT, I also had to make a lot of phone calls since the company has several locations.
You are based in the Regensburg office. How long has the office existed and what was the reason for opening the Anexia branch in Regensburg?
It was pretty funny. I had previously been working for SSP Europe as a consultant for cloud products. SSP then sold its IT Services to Anexia. A few of the staff were taken over and, of course, room had to be made for them. Our office was on the SSP premises before, and even though it was a separate office, it was still too close to our former colleagues and everything else. It wasn't easy to find a new office as the rental prices in Regensburg are very high. But we still wanted a nice office and that's why we kept looking for about six months until we finally found one last year in June.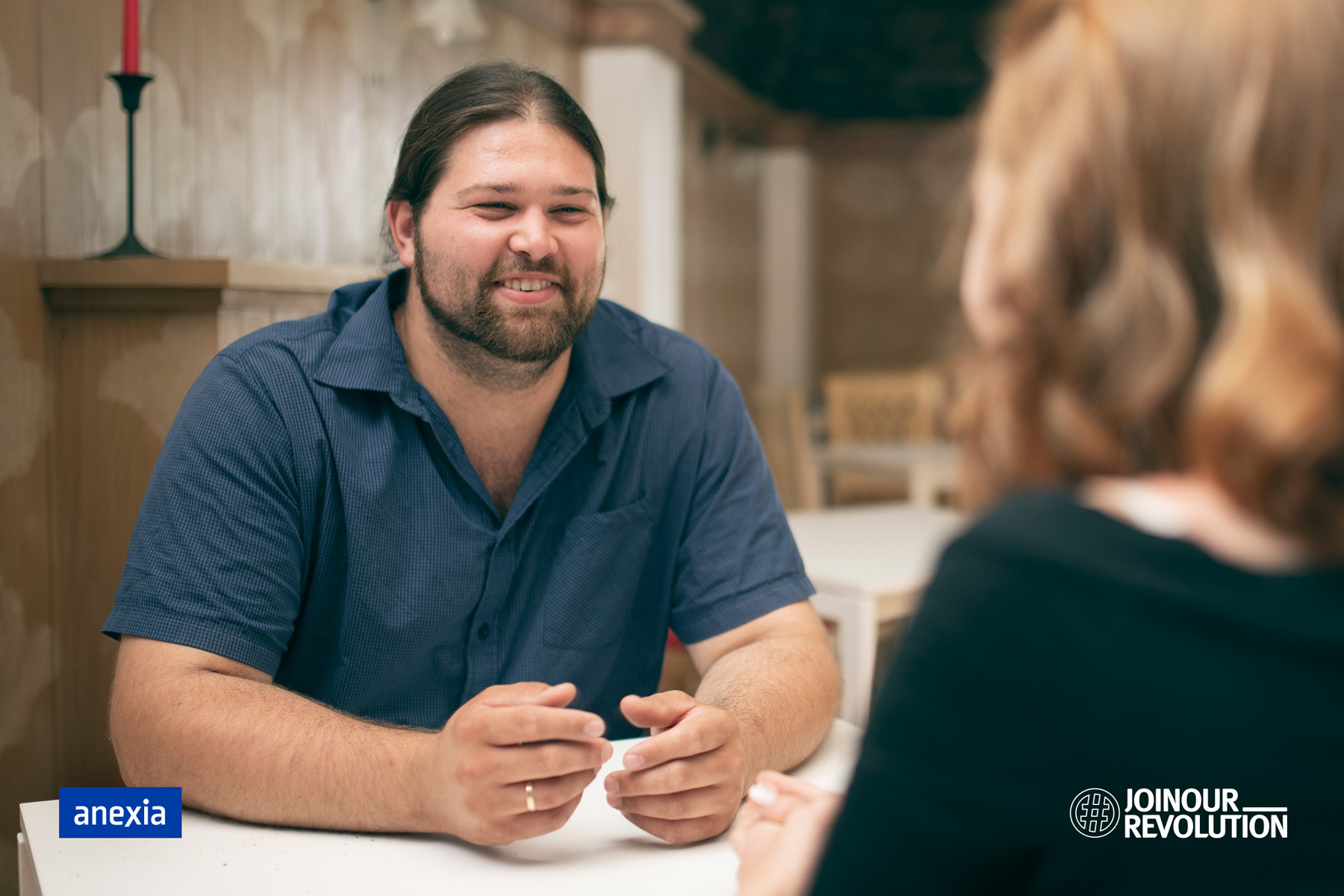 Since when can you call yourself an Anexia employee?
I started working for Anexia two and a half years ago.
Did you always want to work in IT. What was your dream job?
My dream job was to be a media designer and working in video editing was great fun. I also did a few internships but, to be honest, I didn't follow that path because I wasn't creative enough. In the job I have today, I still need to be creative, for example when I'm planning something together with the customer in consulting, but not to the extent needed to edit videos.
I have to say that I haven't regretted my decision to make my hobby my career for a single day.
How did you come up with the idea of training in IT?
I happened to notice the job ad and applied for it straight away. I stayed on after the probationary period, because I really enjoyed the work. I was very interested in computers as a child and later as a teenager and practically grew up with them. I didn't want to make my hobby my career because, as is often the case, your career ruins your hobby. But I have to say I haven't regretted my decision for a single day.
Would you study something in the field of IT again or would you choose a different path?
I thought a lot about studying straight after completing the training program. But some of my friends were students and they told me that much of it was very theoretical. I was more interested in the practical side of things. That's why I thought training courses and further education would be of more use to me than studying. This meant that I was able to gain much more practical experience. So, no, I'm happy with the path I chose.
You live in Bavaria. Did you ever want to go somewhere else or is your motto: "I'm here to stay"?
I did think about it a lot, but I have to say, there's no place like home. I had thought about moving to Austria at one stage, because the language difference isn't that bad. Bavarians generally get along very well with Austrians. Now and again I only have trouble understanding B and P. (laughs) I finally gave up the idea of moving away, because my family is in Bavaria and, first of all, I don't want to leave them and, secondly, I like living in Bavaria. And if I moved to Austria, I wouldn't be able to vacation there any more.
You are married with three children and have a full-time job. What skills have you learned as a father of three, which you can now apply to your work?
A family needs structure. If you let your standards slip with just one of your children, then they are going to take advantage of that. That's why you have to set boundaries for children and show them just how far they can go. At work, my colleagues need standards too, not necessarily boundaries, but guidelines to help them do their jobs. Another important factor is perseverance. Some jobs you know are going to take longer than usual and you just have to keep going.
And what do you do when you're not in the office? Do you have a particular hobby?
As a father of three, I spend most of my time with my family. It's more difficult to travel these days, but when our youngest is a bit older we'll be able to go away more often. I don't have any particular hobby, but I love all sorts of music. I love listening to it and I play the guitar when I have the chance. I used to play the saxophone too, but I don't know if I could still do it now. I still have one, but it's stuck in the living room, nice and shiny and no longer used.
Thank you, Jürgen, for the interview and enjoy the rest of the summer festival.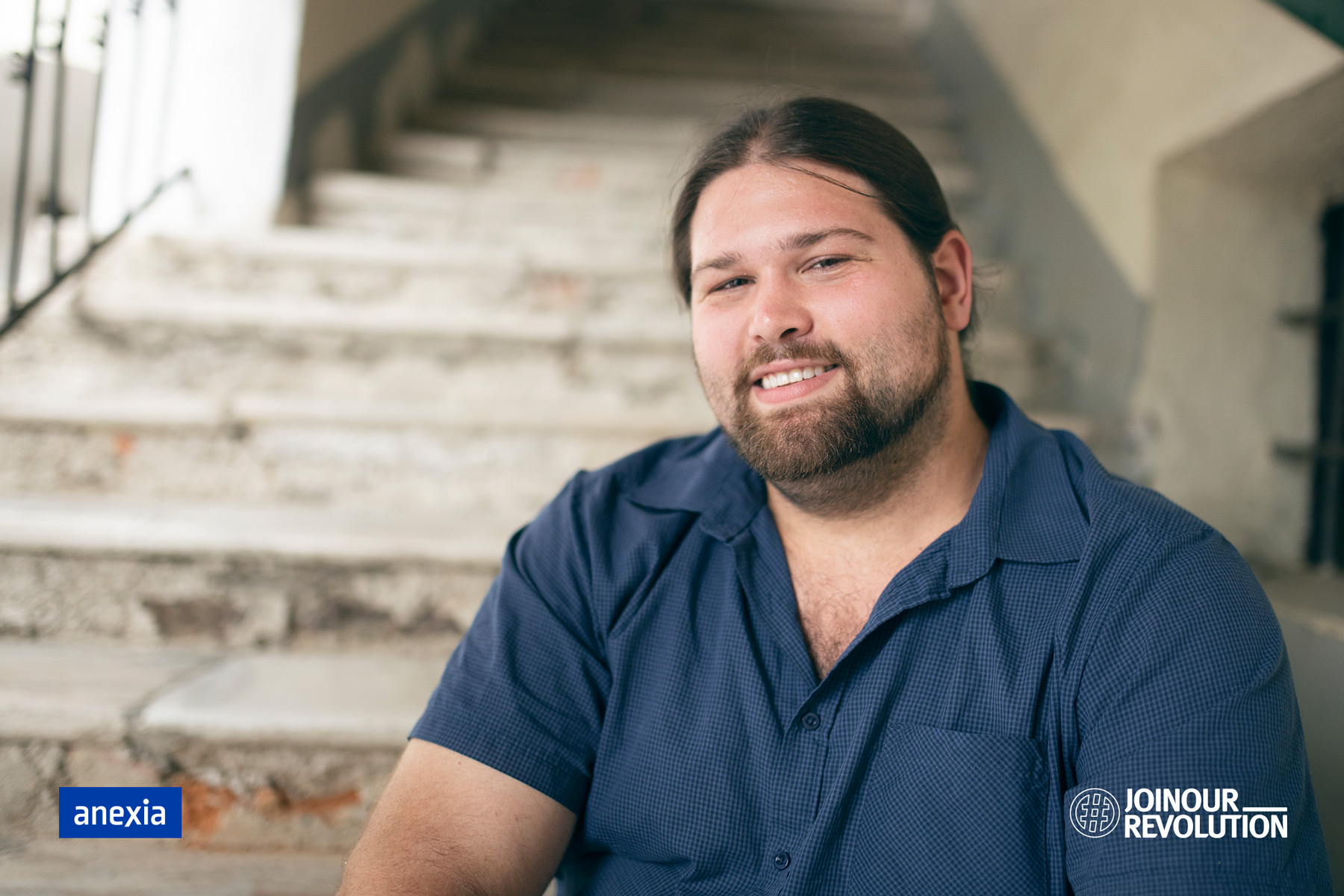 ---
Are you an absolute technology geek and are you thinking about making your hobby your career? Then follow Jürgen's example and apply now for one of our advertised vacancies or send us a speculative application: