Backbone Europe: massive growth in 2019 and more to come
---
The Anexia Backbone Europe
To protect ourselves and our customers from DDoS attacks or failures, we need a strong network with high capacity. With the Backbone Europe project launched in 2017, we turn this into reality. By now our backbone comprises 17 locations in Europe, has a network capacity of more than 2 Tbps and is characterized by the interconnection standard of 100G. In addition to Anexia customers, more than 70,000 customers of Anexia's subsidiary netcup are integrated into our Backbone Europe and already use its related services such as the DDoS protection.
Also, in 2019 the expansion of the Backbone network continued strongly. The network team, headed by Head of Network & Infrastructure Theo Voss, has been able to implement several upgrades in the recent months. This has strengthened the availability and redundancy of the Backbone. In this blog post we have summarized which upgrades were implemented and what has been going on in the Backbone Europe: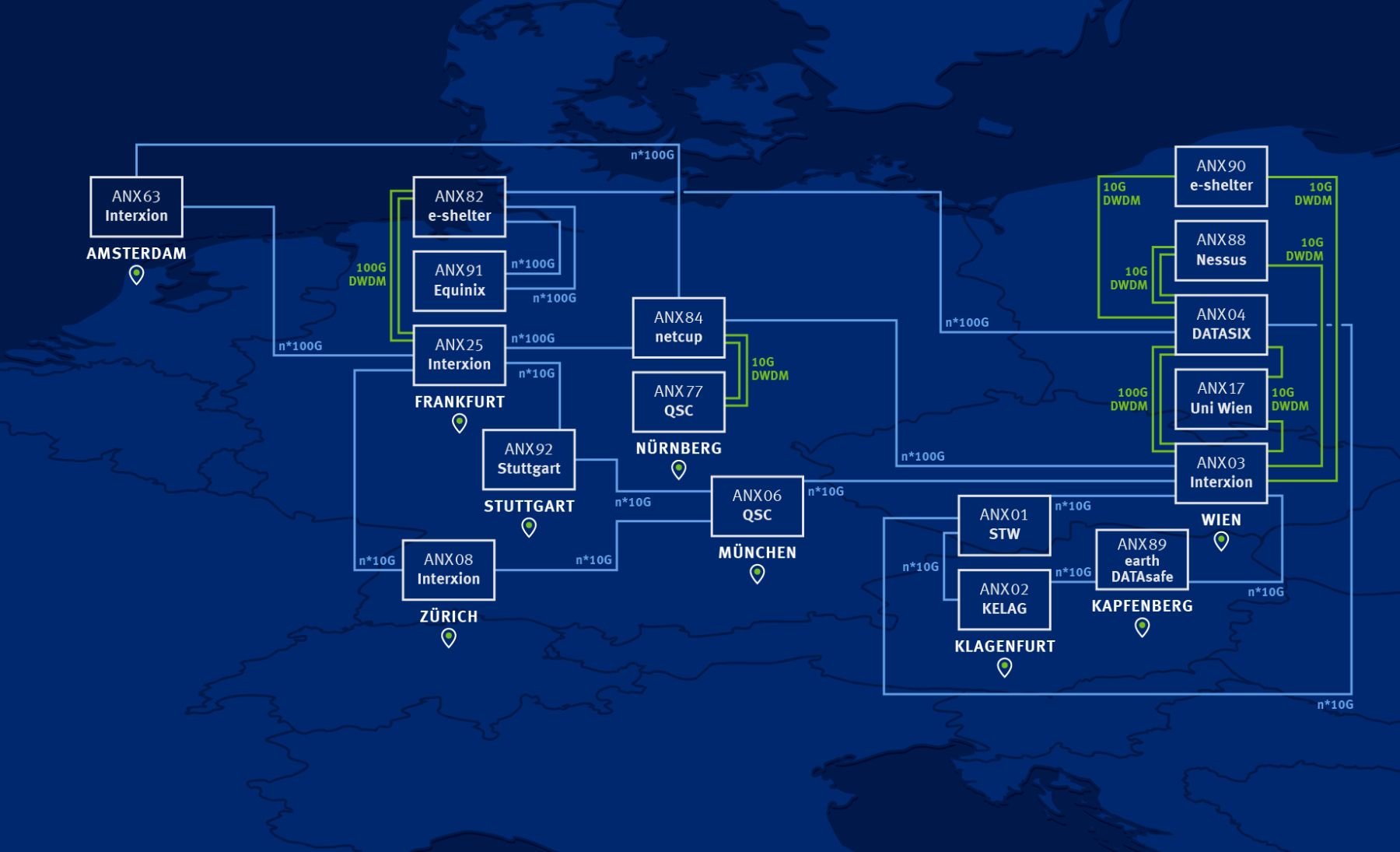 ---
New Backbone location Amsterdam
Already at the beginning of last year, in January 2019, we were able to expand the Backbone to Amsterdam (Interxion, ANX63). Amsterdam was integrated into the Backbone and connected with n*100G to ANX84 in Nuremberg (netcup) and ANX25 in Frankfurt (Interxion).
Focusing on local data exchange at the Klagenfurt location
Local data exchange and strengthening of local IT communities are important to us. In order to strengthen the location of Klagenfurt in long term and to promote locality, not only a connection of 40G capacity to the AAIX Internet exchange was establisehd in April 2019, but also the connection between our two data centers was massively expanded. Furthermore, we connected to the Nuremberg Internet Exchange N-IX with 10G to improve local data exchange.
MANRS Membership
It is important that network operators like Anexia follow common standards and rules to ensure routing security. To do that, we joined the international MANRS initiative (Mutually Agreed Norms for Routing Security) in December 2019. MANRS defines standards and guidelines for the technical security and facilitation of communication between global network operators. For us, the membership in MANRS is an important step, as it underlines our high standards in providing a secure, international network.
New backbone location Stuttgart
At the beginning of the new year, the Stuttgart location (GRP10, https://peeringdb.com/fac/2401) with connections to Frankfurt and Munich was integrated into the Backbone Europe. This not only adds another location to our backbone, but also strengthens the redundancy for our data center in Munich and improves latencies for customers at this location.
Integration of netcup into the Backbone Europe
A great success in the new year was the complete integration of netcup into the Backbone Europe. All data traffic is now transported via the uniform network of the Anexia Group. Thanks to the DDoS protection developed by Anexia, netcup customers benefit from even more bandwidth and better protection against DDoS attacks.
Juniper Blueprint upgrades at worldwide server locations
In addition to our Backbone Europe project we are working on our global infrastructure. The Anexia World Wide Cloud (WWC) now consists of more than 90 server locations in more than 40 countries worldwide. Last year, 12 server locations were equipped with our Juniper Blueprint and upgraded to 100G.
---
In 2019, a total of several hundred Gbps of interconnection capacity were newly established or expanded. Beyond that, our network team set up and expanded dozens of connections to important providers. Highest quality and best possible routing are our credo for operating and expanding our network. Therefore, a comprehensive hardware upgrade at all backbone locations is scheduled for 2020.
If you are interested in our Backbone Europe or are looking for a competent partner for your infrastructure, our Anexia experts will be happy to advise you without obligation.