CASE STUDY: WITH LOW-CODE IN A SHORT TIME TO THE FINISHED SOLUTION
---
The development of customized software solutions usually requires a lot of time and a large budget. It sounds almost impossible when these two prerequisites are missing and a customized software solution is needed. In our joint project with the Carinthian Chamber of Commerce, a software solution for handling cashback campaigns had to be developed in a very short time and with very limited resources. A difficult task, which we were able to implement to our complete satisfaction and which we have summarized in a case study.
Software development process using low-code modules
To achieve this ambitious goal, a low-code implementation using Anexia Generic Services was chosen. By using low-code it is possible to realize a software idea in a few days instead of weeks or months.
In this process, the appropriate "Generic Services" are selected from the prefabricated modules and linked to each other via the existing interfaces in order to map the majority of the required functionalities in this way. However, this does not mean that the functionality is limited to the features of the standard modules.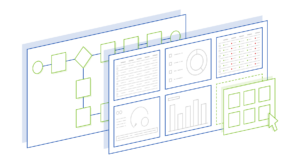 Missing functions can be extended and supplemented at any point via scripts or by classical programming languages. By using low-code, software development is no longer the tedious process it once was. Low-code makes it possible to implement software solutions faster and more cost-effectively than ever. At the same time it is possible to increase the productivity of the development team, because the components can be reused again   Low-code is the successor to the fourth-generation programming languages and rapid application development platforms that paved the way for model-driven development using visual models.
Creating new applications with low-code does not mean sacrificing application quality because of the time saved. Rather, it makes it possible to get the most out of developers' skills. With low-code, they can create applications that are both functional and visually appealing without needing much experience or knowledge in backend programming. The low-code revolution has gained a lot of momentum in recent years and will be increasingly used to take advantage of the time-to-market benefits.
Low-Code Software Development Case Study
With cashback campaigns, the Carinthian Chamber of Commerce wanted to boost the local economy after the Corona Lockdowns and create an incentive to the end user by paying back a certain percentage of each submitted and approved invoice. Since no one could have foreseen the Corona crisis, the cost of the software project was not included in the Chamber of Commerce's budget. Also, the time pressure could not be invalidated, because as soon as the respective lockdown was over, the cashback actions had to start.
Together with the Carinthian Chamber of Commerce, we have summarized and published a case study on how the project was successfully implemented despite these conditions.
Download Low-Code Case Study
Our case study is available for download under the following link "Case study on low-code software development: Cashback campaign of the Carinthian Chamber of Commerce".
Further details about the Anexia low-code platform can be found here.