Domain management with the Anexia Engine
---
Domains are the basis, and often even a direct prerequisite, for many IT services – and that's why we want to cover this topic right near the start of our Engine blog post series. Lots of other services in the Anexia Engine are connected to or can be combined with domains.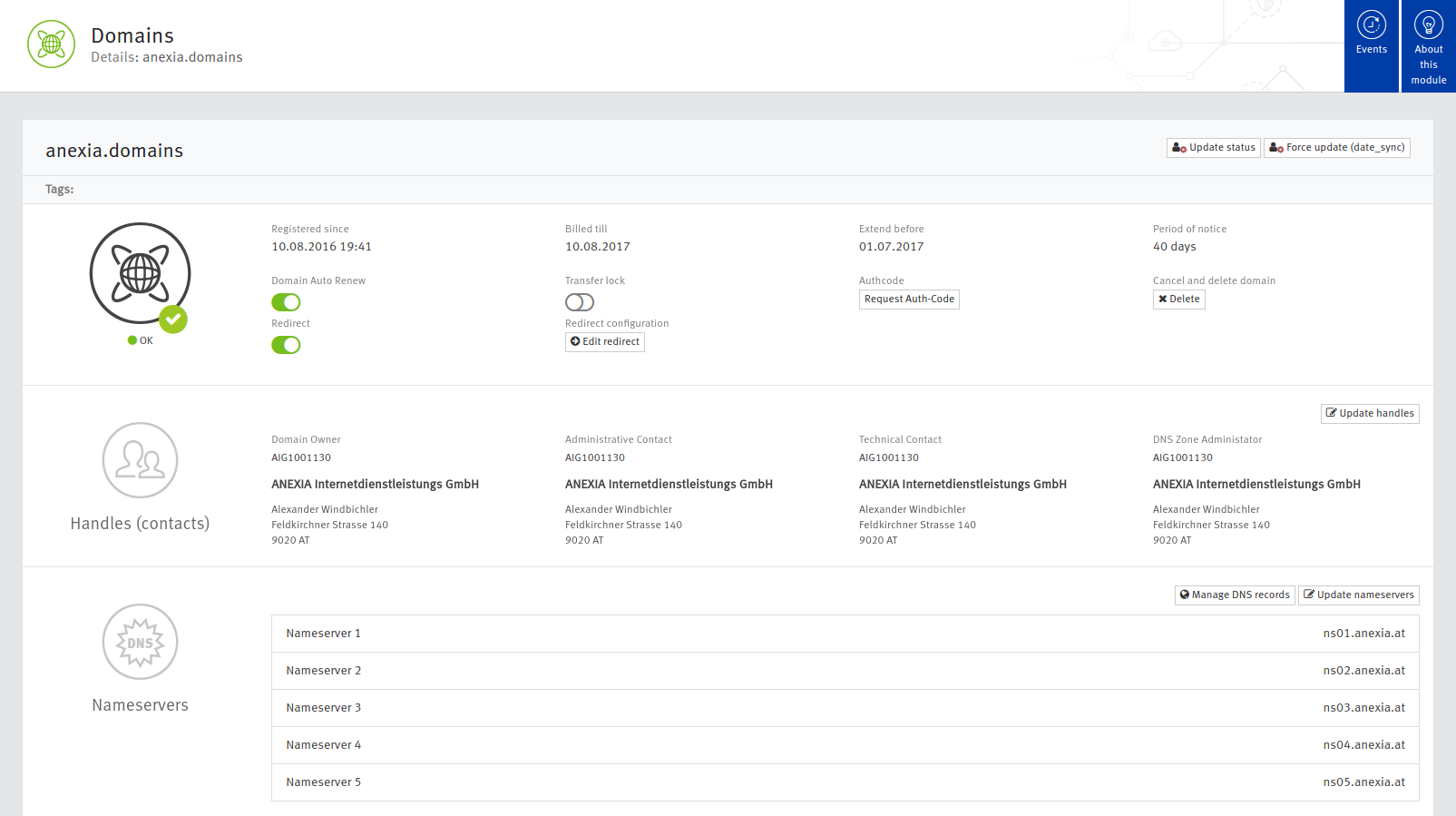 Our aim was to establish a comprehensive domain management solution that is just as suited to small domain portfolios as to very large ones and that fulfils all today's standard requirements without overwhelming the user with technical details. With the Anexia Engine, over 800 different TLDs (Top Level Domains) can be managed/registered and transferred – this generally includes all ccTLDs (country code endings such as .at, .de etc.), all gTLDs (generic endings such as .com, .net, .org) and most so-called "new gTLDs". These last TLDs form the largest group, and offer endings to suit any topic you can think of, from city names like .nyc or .wien to culture and lifestyle themes such as .film, or have the function of defining the service in the domain name, such as .app, .blog or .shop.
Domain search


Because of the huge amount of search results, categorization and a clear arrangement are very important. As you can see on the screenshot above, you can easily jump between the different fields during an active search. The fields list the results of different categories. The real-time availability status is transmitted by a microservice we developed that processes a few hundred requests a second. Based on the search results, domains can then either be ordered and transferred individually or be put in a queue for later bulk processing. Various filter options help refine the results. For example, domains already in your own domain portfolio are not shown.
We also make other suggestions, as creative alternatives or for trademark protection reasons. Here too we go a step further than most other providers: we go through 10 different algorithms (bitsquatting, homoglyph, insertion etc.) and are also able to reliably show misspelled versions of searched domains.
Order process


The order process has an identical set-up for individual orders and bulk processing. For bulk processing, a standard option is always defined and only domains deviating from this option need to be dealt with separately (individually or several at once). This means that generally even domain orders and transfers of over a hundred domains can be efficiently achieved in just a few minutes.
Bulk processing
In order to meet the demands of larger domain portfolios, bulk processing has played a large role right from the start. We don't just offer this for initial registrations and transfers: for existing domains too, various different operations can generally be carried out for several domains at once. This includes setting up forwarding (retrospectively) or changing the handles (contacts) for several domains.
DNS & other services
The DNS (Domain Name System) is directly linked to the domains and is included as a separate module in the Anexia Engine. Domains ordered through the Anexia Engine are registered in this DNS module fully automatically and can then be managed in the module, providing you keep the Anexia name server when ordering.


Soon there will be the option to upgrade to our new and completely reworked DNS solution CloudDNS, which alongside GeoDNS, DNSSEC, importing zone files and extensive access statistics also includes many other new features and optimizations.
The Anexia Engine modules "Email" (administration module for SMTP/IMAP-based email servers), "Hosted Exchange" (administration module for Microsoft Exchange) and "SSL" (order system for SSL certificates) can also be used directly for any domain acquired through Anexia Engine.
---
You can find more information about domain management with the Anexia Engine here. The Platform Solutions team is happy to help you with any more in-depth questions you may have: info@anexia-engine.com