Lisa Rogers: Helping you in order to help herself
---
"Sure" is the word that comes to my mind, when thinking of my colleague Lisa Rogers. Anexia's Backoffice Manager in our New York office site follows the slogan WE CAN 100% – if there is a solution, Lisa will find it.
I've met this powerful and motivated woman in the office in Carnegie Hall Tower in Midtown Manhatttan for this #joinourrevolution interview.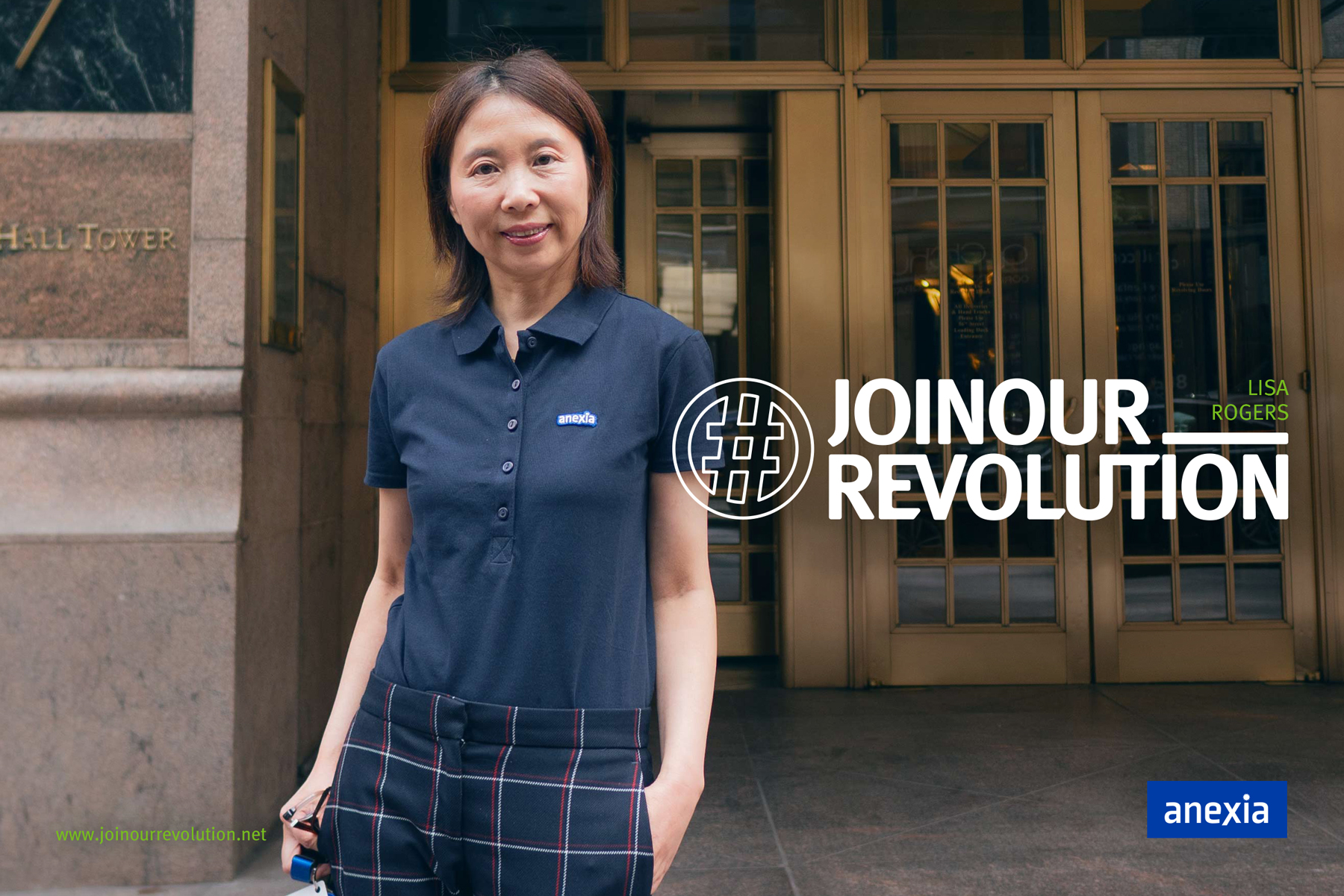 Could you introduce yourself, please: Who are you and what do you do at Anexia?
I am Lisa and I have been here for a little bit over two years. It's really hard to say what exactly I do. Mostly I work with the finance team where I do accounts receivable as well as accounts payable. In addition, I am responsible for back office tasks for the US office sites such as purchase orders and I support HR with the employees of the Anexia Inc.: get all employees, onboard them and implement all the requirements, software and equipment.
Basically, I support everything and everyone to make sure their business is running successfully. I give all the support they can have.
Back in the time when you started at Anexia, it was just Adam (Managing Director, editor's note) and one sales colleague working for the Anexia Inc. here in New York. Now there are ten employees and you also got support in the back office with Stephanie. What has changed for you due to the growth?
Yes, Stephanie helps me. With more employees, more customers, more vendors just everything multiplies. I needed some support and actually it is also more fun to share tasks and to have someone to discuss certain topics.
What were you doing before you joined Anexia?
I have been working in software QA (Quality Assurance) for a financial technology company. We've tested the readiness of the products. I've been doing that for over 15 years. I have a broad experience: I worked with different industries such as finance, media & publishing, telecommunication and data warehousing where I've done implementation, support and QA.
It is also more fun to share tasks and to have someone to discuss certain topics.
That is a very technical background.
Yes. What I am doing now is extremely different. In the past, I've interfaced with the developers, system architects and business analysts.
What did you study before entering the professional life?
I have an MBA (Master of Business Administration, editor's note) with a focus on Management of Information System and I have a certificate in telecommunication and also certificates in basic programming skills, but that was a long time ago. (laughs)
Did you have many female colleagues at university in these technical subjects?
Yes, actually there were many girls. You may have a different view, because in the areas Anexia is working in, e.g. data center management, it's true: there's a lack of women. But it is different in other industries like e.g. the financial technology rooms: There are female web designers, developers, QA project managers and so on. I've never experienced any professional disadvantages for being a woman in tech. I guess it's also because of living in New York: this city is just famous for its diversity. A team of people with different backgrounds is normal with us.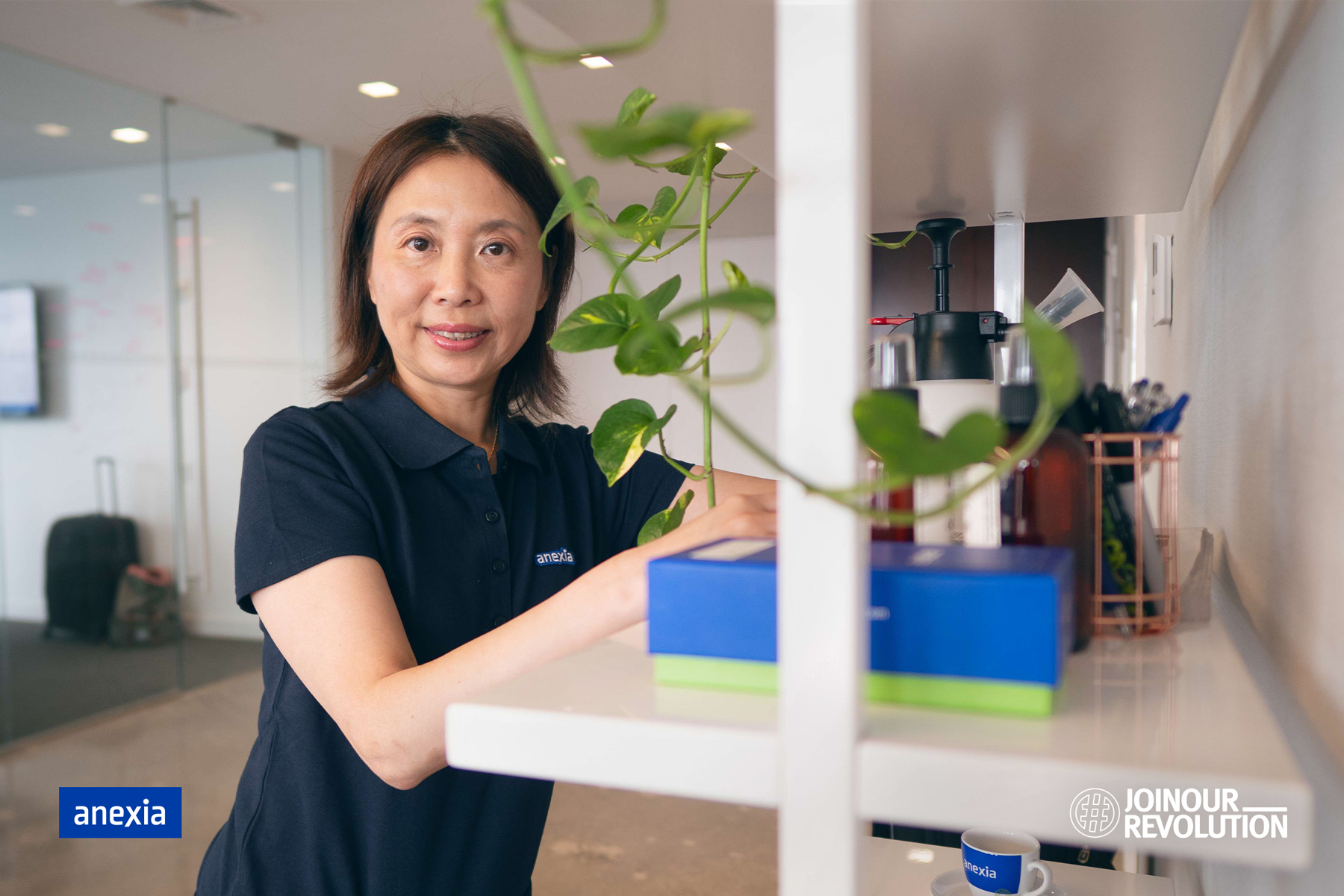 What did you want to become when you were a child?
I really wanted to be a doctor. I thought that is a cool thing to do. When I was little, I saw the other children wanted toys and dolls. I always would like to have doctor equipment like needles or that blood pressure meters.
Are you a person, that likes to care; a person, that is looking after the others and makes sure that everyone is feeling well? Like a doctor does?
I don't know. I think for me it's more about finding out what's wrong. What is wrong with you? (laughs) But I guess this isn't related so much to my dream of becoming a doctor but more related to my previous profession which is quality assurance. There you always try to find out what is wrong and why it is not doing what the requirements say it should do.
Can you use this perspective in your job today?
You know, there are the people developing the product and the people selling it and they are not always at the same page. The product people say: 'My product is good. Just sell it.' Salespeople say: 'No, I can't sell this, because this is not the product the customer wants.' I used to be on the development side, now I am on the other side. But still I can see both sides and that's very interesting. I can put this into perspective when working together with operations to make a product to whatever the customer needs.
I like to have open and effective communications, like if you have a question say it out loud.
Since you've had different jobs and positions: What do you need to feel comfortable at work?
I like to have open and effective communications, like if you have a question say it out loud. And mutual respect, because we are an international and multicultural company. I believe the respect for different cultures in that sense is very important. You know, sometimes when you first think a person is mean, often it's just how they are and their way of doing things that can be different to your way. Most of the time, people don't act on the purpose of giving you a hard time or trying to be negative and not helpful.
I for myself always try to put myself in other people's place, to be in different people's shoes. It helps me understand the others.
What are your tips for an open and effective communication?
I come from this international multicultural background. And I understand language barriers since I've experienced them as well in my past. I remember how I felt when people talked very fast to me. It made me nervous, since I didn't understand everything, but I was too afraid to ask. I thought people will probably laugh at me. So, I understand all that. And that is why I now try to improve conversations: I talk slowly, I break down one sentence to three, maybe I put in a picture, maybe I put in a screenshot. To me, it's very natural to just say things over and over again, always in another way. If I rephrase things, people do understand. I want to help you in order to help me.
You live diversity in the New York office. Colleagues come from various cultures and backgrounds here.
Yes, that's true. So, I for example have a little bit technical background and the international flair, but Stephanie is a great designer. So, everybody has a different background, different experiences. We bring this all together and try to use the qualities everybody is bringing in. Steph did all the office decoration for example.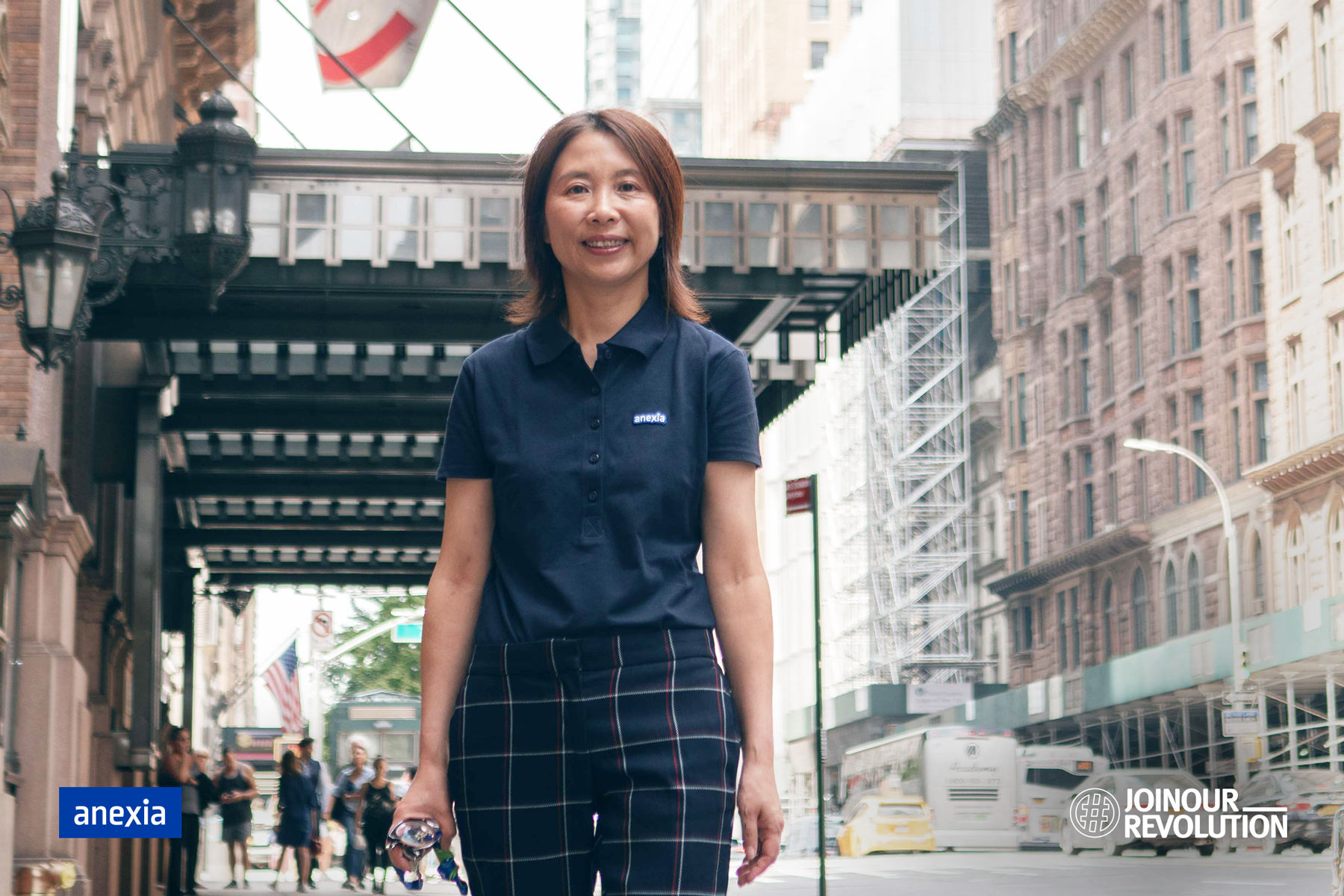 What's your favorite task?
I like to organize everything and prioritize things. I always ask myself "Why am I doing this?" and "How can I do it even more effective and in a more productive way?". I am willing to improve. Like: Is this the best thing I can do? And what also gets me excited is to say: I passed all my tasks. When I get all tickets locked, that is great. (laughs)
What do you value about Anexia and about working at Anexia as a company?
I like to work with a company still developing. There is a lot of space for growing. And I like to work in a technology-oriented company, which Anexia is. So even though I don't deal so much with these technical tasks anymore, I still like to be in such an environment working with network engineers and developers and so on.
What are you doing in your leisure time?
In New York you literally can do everything you want. There are a lot of things I like to do. We often visit the museums. I like to experience all different kinds of art and artists. Also, we have brilliant restaurants here. And since our son is a classic musician, I am very into the classic music. There is always the Carnegie hall, but in summer, they also have performances outside in Central park or at Bryant park. I really like that. So, there are a lot of things to do in the summertime in New York.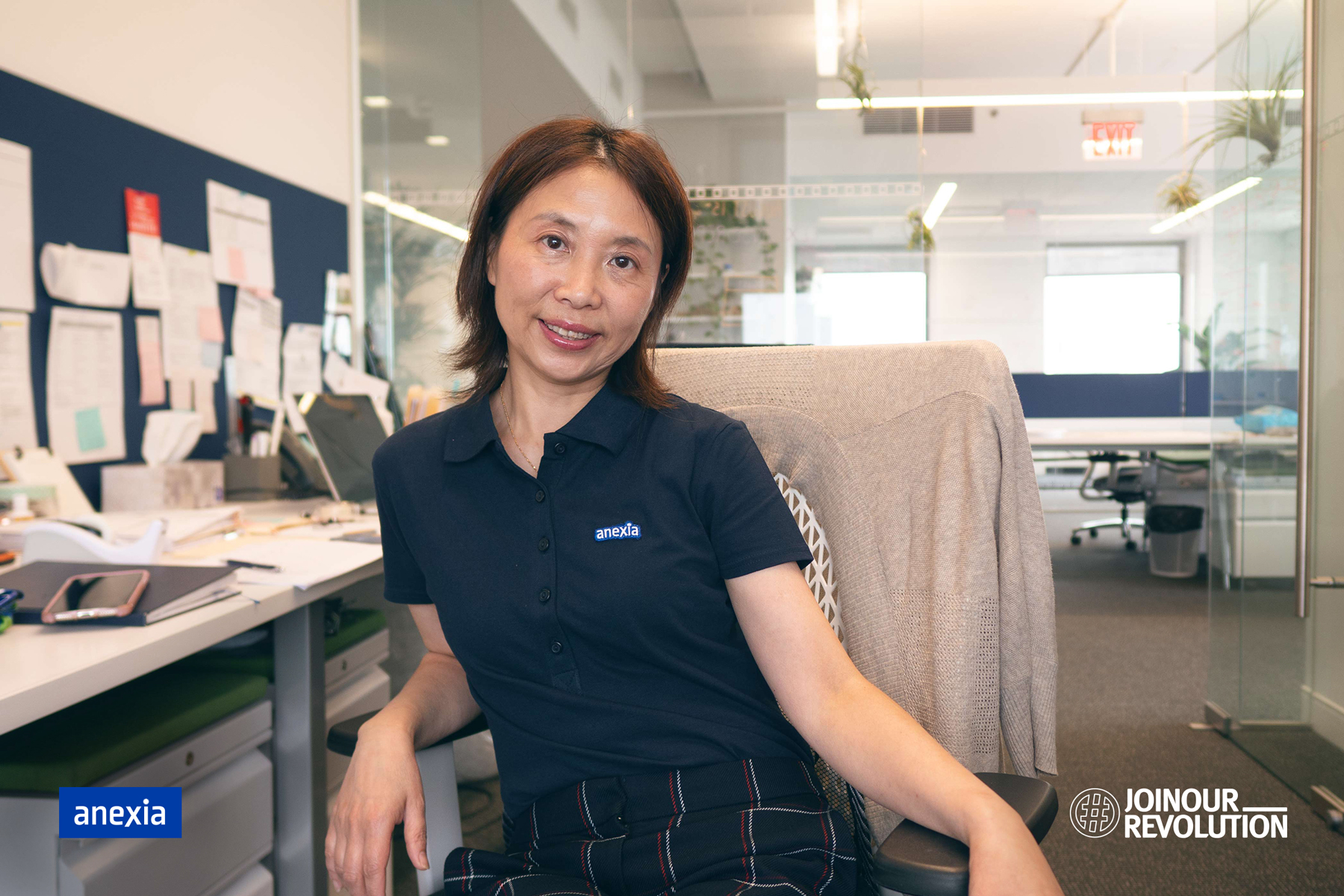 Now that it is wintertime, Lisa is more enjoying hot drinks in snowy New York. But regardless of summer or winter, Anexia Inc. is searching for new employees. Apply now: joinourrevolution.net