Two projects for derStandard.at: Karriere and Wetter
---
The new job search function recently went online on the 'derStandard.at' website. ANEXIA supported 'derStandard.at' both in developing the software and hosting the new search function.
The new search function should improve the quality of search results even further and also offers a number of filtering options along with a search for related terms.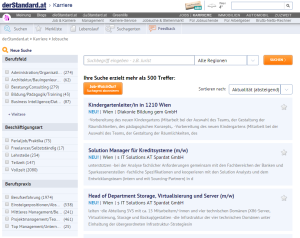 As part of the new setup, the search is performed via an independent component from a third-party provider, whose integration was arranged by ANEXIA and which is supplied on servers operated by ANEXIA.
This provided the framework to completely update the entire job-search with the newest technology and to fully modernize the portal. In addition to the search itself, the detailed view and reminder-list system have been redesigned. The detailed view now provides all important information at a glance. Another completely new addition is the job comparison function, which allows users to compare up to three selected jobs clearly and directly.
Many other features are due to follow in the upcoming weeks and months and we are very happy to continue providing 'derStandard.at' with active support in implementing this roll-out.
'derStandard.at'/Wetter (Weather)
A 'derStandard.at' project that ANEXIA was significantly involved in, the new weather page, has been online since October 2014.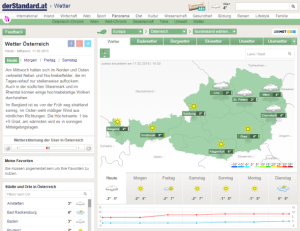 The new page provides detailed national and international weather information, topic pages including weather for swimming, skiing, the mountains and storms, and it also involves the 'derStandard.at' community. For this purpose, ANEXIA not only did the programming for the new weather page, but also designed the new weather icons as well as edited and supplied the extensively detailed map material.
Versatility
Our versatility means that we can also operate in other fields and provide 'derStandard.at' with support, for example, in the mobile version of the job and property searches, and also offer maintenance and expansion services for the Android and iOS apps. We are working very closely with both the development department and the 'derStandard.at' project management team on all of these projects and are looking forward to many more exciting collaborations in the future.