All eyes on Anexia Engine. The cloud management platform made in Austria
---
In the next few months we want to use this blog post series "All eyes on Anexia Engine" to introduce the Anexia cloud management platform to you. I am Admir Karadza, Head of Platform Solutions and a pioneer at Anexia in developing cloud management platforms,: that's why I want to tell you a bit about the Anexia engine.
In this first article I present the Anexia Engine itself as the core platform, and then go on to discuss in detailed articles on individual modules and services. Why was it that Anexia got the idea to develop a cloud management platform, and what steps did we take? The answers are here.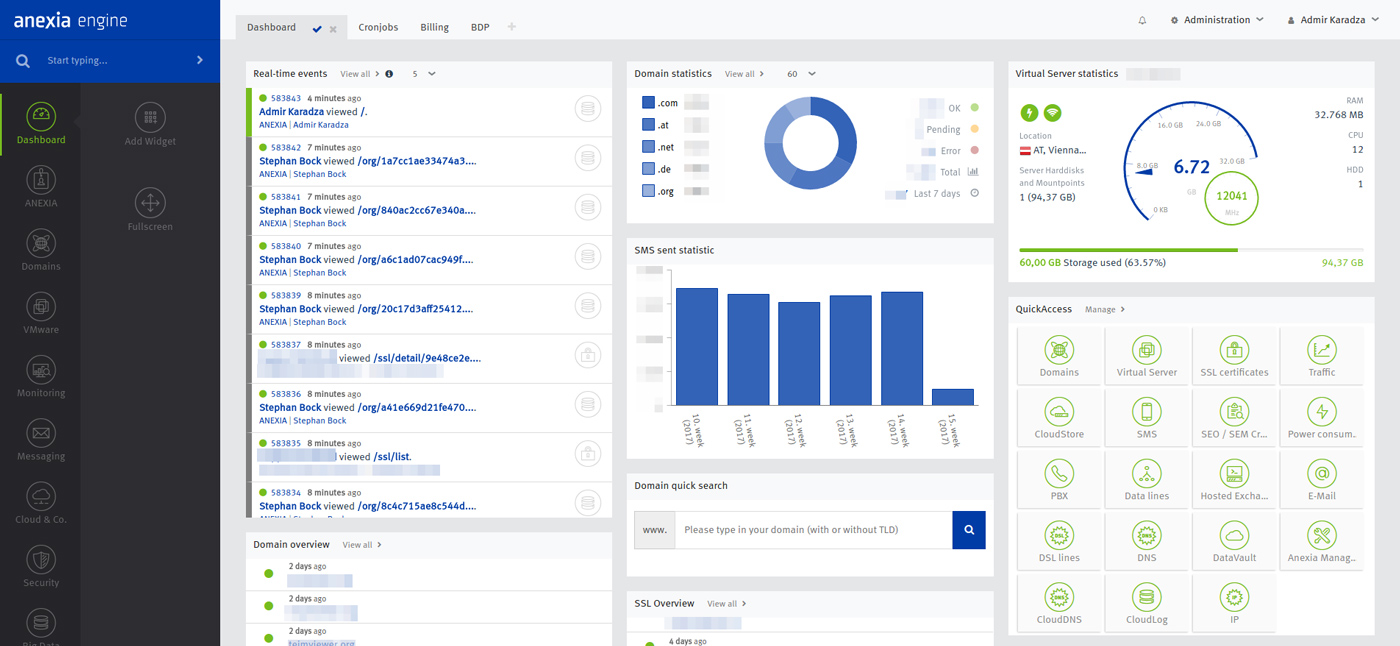 ---
Anexia Engine – the stuff that clouds are made of
Anexia concentrates on two IT business areas: Individual Software Development and Managed Hosting. Synergies can often be exploited, but fundamentally the two areas have developed independently. Over time, however, it became clear to us that much greater added value could be achieved by combining the two disciplines. The result is the Anexia Engine. To put it in a nutshell, it functions as our operating system for various IT solutions.
Ingenious software makes it possible ─ as far as possible ─ to simplify and to automate the often complex processes around various IT services, and so allows IT services to be managed also by non-specialists that lack technical expertise. But the decision to self-manage does not have to be final: if mistakes happen, you can always consult our support team or still take the service of a fully managed solution. And, of course, also professionals with the right expertise benefit: the Anexia Engine accelerates processes without limiting the possibilities of any given solution.
How is the Anexia Engine designed?
The Anexia Engine consists of a central core, the Engine Core. Additional solutions are implemented in the form of modules. The Engine Core includes basic functionalities and handles higher-order tasks: users, authorizations, accounting, etc. The modules focus on the actual applications – and these are now very diverse. These two levels are strictly separated, and communication is controlled via internal APIs. The engine offers, for example, subsystems for processes and events, cron job management and much more. The modules are constructed according to a predefined standard. This makes service and repairs easy to manage in the long term.

---
The history of the Anexia Engine
To better show why the Anexia Engine looks like it does today, I would like at this point to briefly describe the origin and development of the project.
The first step – Anexia Customer Panel
In 2014, we broke ground and started on a rather small scale – the initial goal was a classic customer panel, in which we at first wanted to integrate two to three basic services. Among the first goals was to make power and traffic measurement data clearly and transparently accessible to our customers. DNS management and a module to manage for our storage and online backup solutions rounded out this first version.
The whole thing developed quickly and, despite a certain initial skepticism, feedback was consistently positive. A certain dynamism emerged, and very quickly the project developed into something more. We have gotten a taste of blood.

In the following months, we focused on the platform itself. Many supporting elements, such as a central event system, a superior comprehensive dashboard/widget system, an integrated queue/worker system, etc., were developed at this time. Other modules, for example a domain and SSL ordering system, were added. At the same time, we put a lot of effort into a completely refurbished design. Because the whole thing now only vaguely reminded of the initial version, we decided to relaunch it under a different name.
The second step – Anexia Engine
In April 2016 it happened: the Anexia Engine was born. While only a few users had access to version 1, we opened version 2 to a much larger user group. Interest was intense, and soon the fully automated provisioning of the first services was used. In addition to our customers, our in-house IT also relies more and more on the Anexia Engine. Starting in that time, a large portion of our services are managed by the engine.
Gradually, the initial dream became reality: a manageable customer panel became a comprehensive management platform, and the initially small development team became an independent department. Our concept has been accepted – we were on our way.
Rolling Releases
But of course that is no reason to rest – quite the opposite. Because of the modular structure and the isolated engine core, it is always possible to publish updates at brief intervals. Behind the Anexia Engine now stands a well-coordinated team and standardized processes. Thus, hardly a week goes by without a release.
We always take user feedback seriously, and try to be quick in following up with action. In combination with many of our own ideas and constant market observation, existing functionality is not only optimized, but constantly expanded. We currently have more than 20 modules covering a wide range of IT areas. For many of these modules, we (Platform Solutions) are working very closely with other departments, especially Research & Development and Systems Operations, which often provide the basic product.
---
Brief Overview of the Services
The advantage for users is obvious: no uncontrolled and unstructured growth in the system. In the Anexia Engine you have everything cleanly, from one source, and in a familiar environment. Here are a few examples of modular solutions, which provides a rough picture of the character and scope of the Anexia Engine: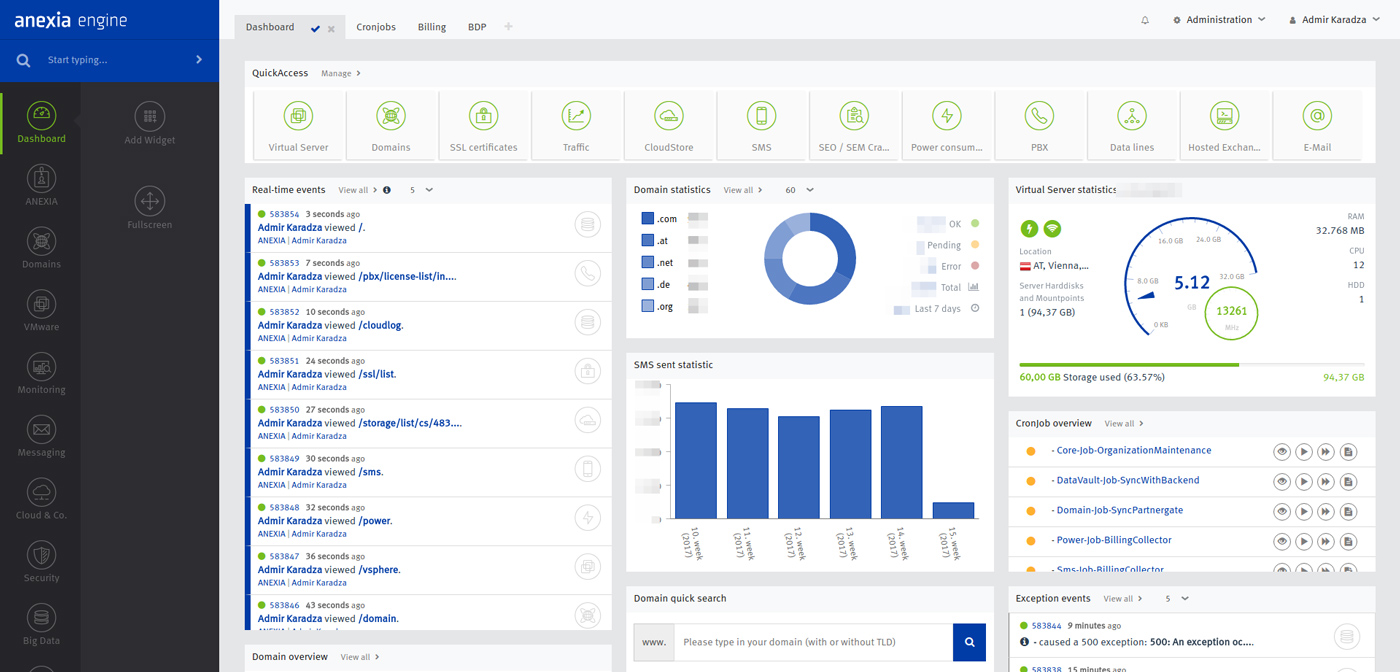 DNS
Classic DNS management, recently completely redesigned as CloudDNS: includes GeoDNS, DNSSEC, and a public API, as well as many other optimizations.
Domains
Extensive domain management with a focus on larger domain stocks: over 800 different TLDs and bulk processing (mass processing of domain registrations/transfers and other operations). The corresponding microservices work with various registries/APIs in the background, while for the users everything follows the same scheme.
E-Mail
Management of classic POP3/IMAP mail servers: mailboxes, forwarding, etc.
Hosted Exchange
Administration module for our "Hosted Exchange" product: administration of mailboxes, distribution groups, contacts, etc.
Monitoring
Monitoring includes the three modules "Traffic," "Power," and "Data Lines." Detailed and transparent breakdown of consumption, statistics, graphs. Also includes API/CSV download, so that data can also be evaluated in third-party systems.
SMS Gateway
Interface for (bulk) SMS dispatch: overview and statistics for outgoing SMS, adjustable sender and other configuration options.
SSL
More than 100 different SSL certificates from five different vendors, as well as reminder and auto-renew function.
Storage
Management modules for our CloudStore and DataVault products; administration of many optional solutions.
Virtual Server
Overview of all virtual servers hosted at Anexia: real-time status, metrics, console (access to virtual servers via Engine), start, shutdown, and restart of virtual servers.
VOIP Calling
Administration of telephone systems: telephone numbers, extensions, users, groups, (temporary) forwarding, connection overview, etc.
---
Roadmap
What will happen in the next few months?
Provisioning of new virtual servers
In recent months, we've been working on offering the provisioning of new virtual servers via Anexia Engine. This module is already in the final phase and will be online soon. It is intended to complete our comprehensive offerings of services for virtual servers. It will also be possible to undertake supplement dimensioning (for example, temporarily more resources to cover peak loads). The ability to configure disks, networks, and various options (such as entering the BIOS after restarting) is also included.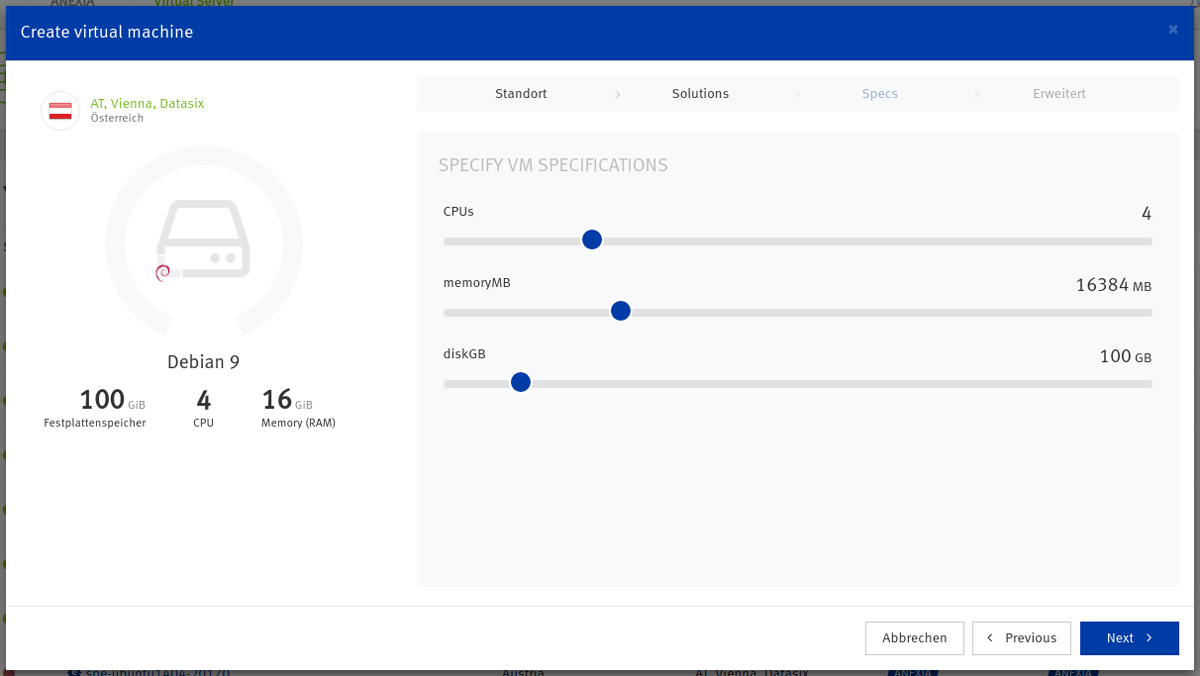 Big Data Processing
Big data processing is an extremely exciting subject that we have been working on for a long time. In the near future we will present with CloudLog our first concrete solution in this area. With CloudLog, immense volumes of log data can be efficiently evaluated and processed in real-time. CloudLog includes on-board tools necessary for data modelling, (real-time) evaluation, visualization, and alarms/notifications. With the help of an API it is also possible to transfer data to any third party systems – both raw data of a certain period of time and pre-aggregated data.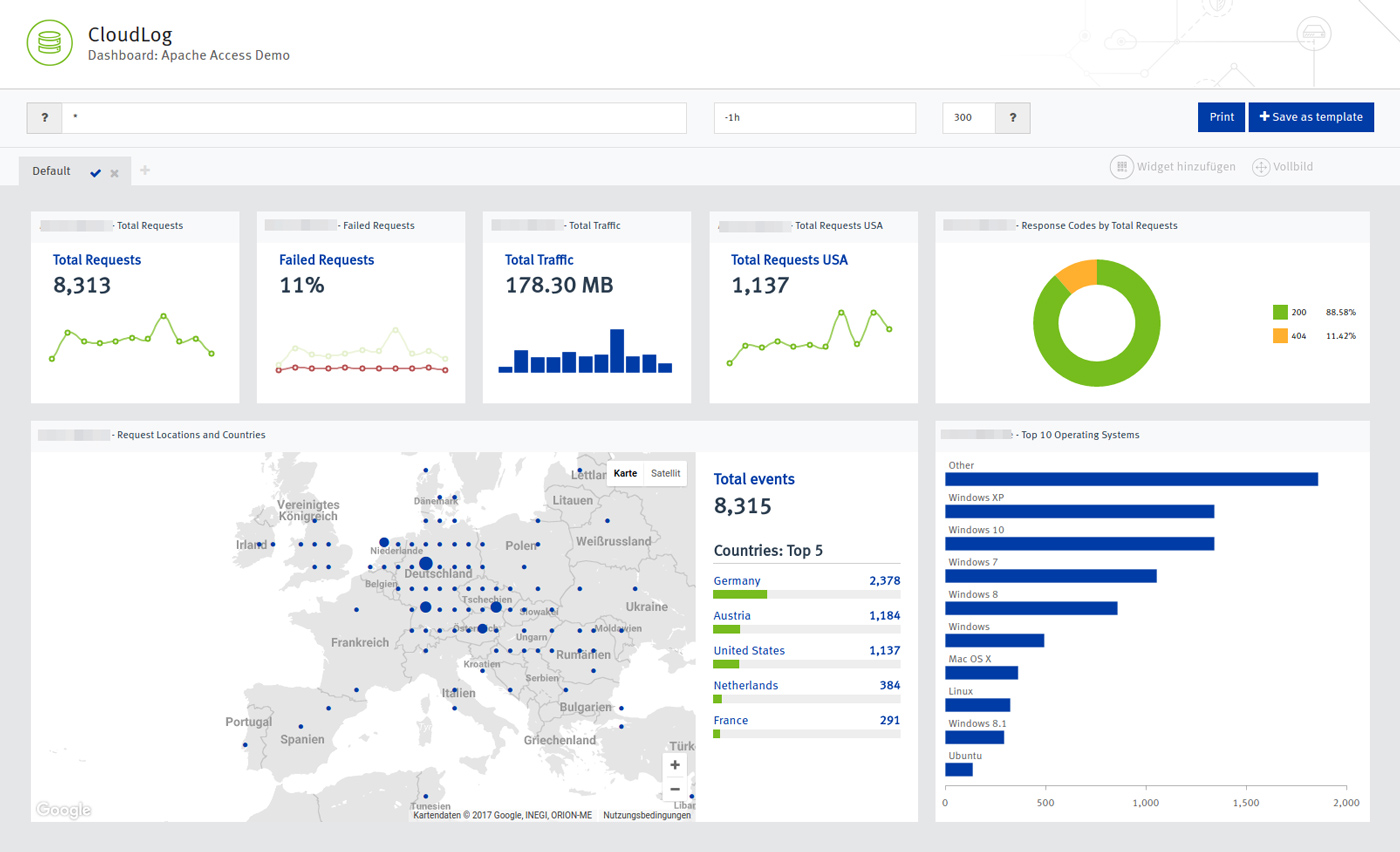 CloudLog already includes definitions for a wide range of standard log formats, beginning with system-based solutions such as Syslog or Windows Event System, but also including applications (Apache, NGINX, IIS, …), Firewalls (BlueCoat, FortiGate, …), and other diverse devices (IoT). Definitions for individual log formats or log formats, which are not already in the system, can be easily added via a web interface. All of the included data models come with prebuilt visualizations (following the example of "ELK Apps").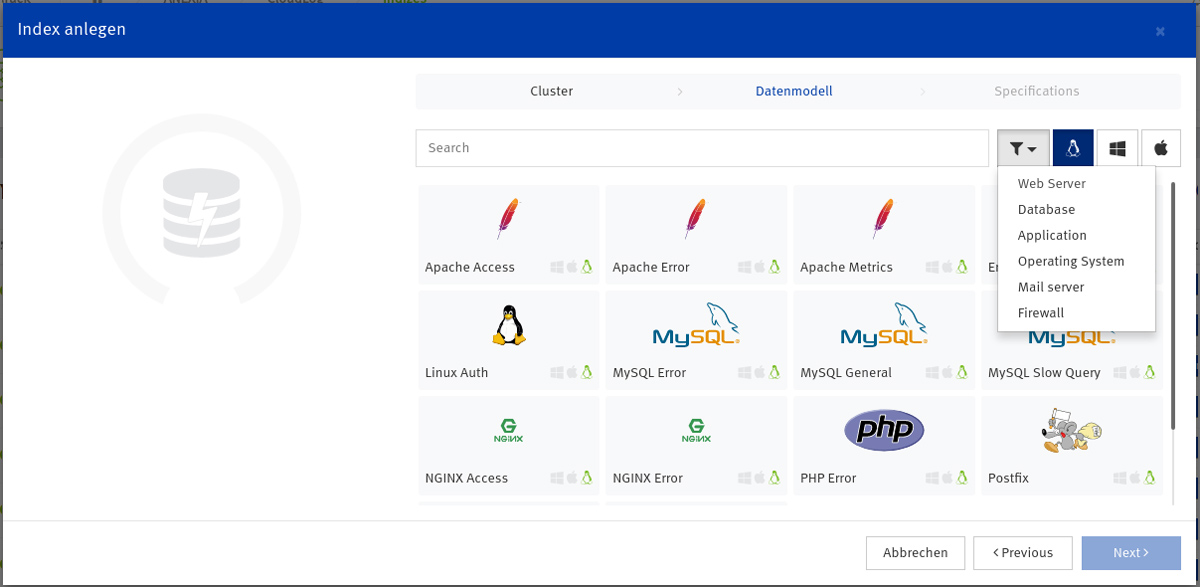 Those who are already working with Kibana and do not want to adapt to something new or who want to use existing templates can do so: Kibana is included as an alternative visualization tool and can be used directly from the engine.