Award for "Anexia Drive"
---
Once again, Anexia took home an award at the ceremony of the VCÖ Mobility Prize Carinthia. The expert jury honored the project "Anexia Drive" as Carinthia's showcase project at the VCÖ Mobility Prize Carinthia 2022.
With the help of AI-supported planning and cloud solutions, "Anexia Drive" makes it possible to plan micro-public transport in a cost-effective, efficient and resource- and environmentally-friendly way. "Our intelligent algorithms manage the aggregation of suitable trips and the inclusion of public transport. This improves the mobility offer in rural areas and at off-peak times by covering the first and last mile", says Philipp Hungerländer, Head of Innovation at Anexia. "Thus, usually contradictory goals – reducing CO2 emissions and increasing mobility – can be achieved at the same time."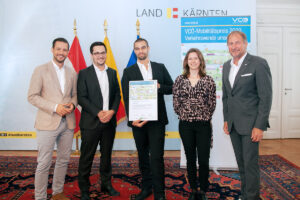 Climate protection without restriction at Anexia
"Anexia Drive" shows that, with the right approaches, climate protection does not have to be associated only with restrictions, but rather that it reduces such restrictions and provides a benefit for mobility, especially in regions that are not so well developed in terms of transport. CEO Alexander Windbichler: "For us, "Anexia Drive" has a high value. It proves that with scientific research, cloud solutions and a great team you can add value to society. At the same time, this product is the start of an entire ecosystem with a variety of smart mobility solutions."
At the VCÖ Mobility Prize ceremony, innovative projects basically dealing with ecological, economically efficient and/or sustainable topics in the field of mobility received an award. Anexia's software product was submitted in the category "Digitalization in Mobility – Mobility as a Service and Sharing".
Anexia wins another award
After all "Anexia Drive" was able to attract attention in April 2022 at the Carinthian Innovation and Research Award ceremony. Hungerländer and his team also won the special prize "Green technologies – R&D for the future". Last year, the project "hex.ai – Solving complex planning problems in rail freight transport through AI" by Anexia and Hex already received an award at the VCÖ Mobility Prize Carinthia.
Download Case Study now
Link to the free download of the micro-public transport case study  (German version).