Christoph Slamanig: Looking back on a decade at Anexia
---
Anexia celebrates its 15th anniversary this year – that is a reason to celebrate and one to look back on the past years. And who can do that better than the employees who were already a part of Anexia back then? Christoph Slamanig has been with Anexia for ten years as a developer and is a true Anexia veteran. What has changed, how the beginnings were, and what an STP is, you can find out in this #joinourrevolution interview!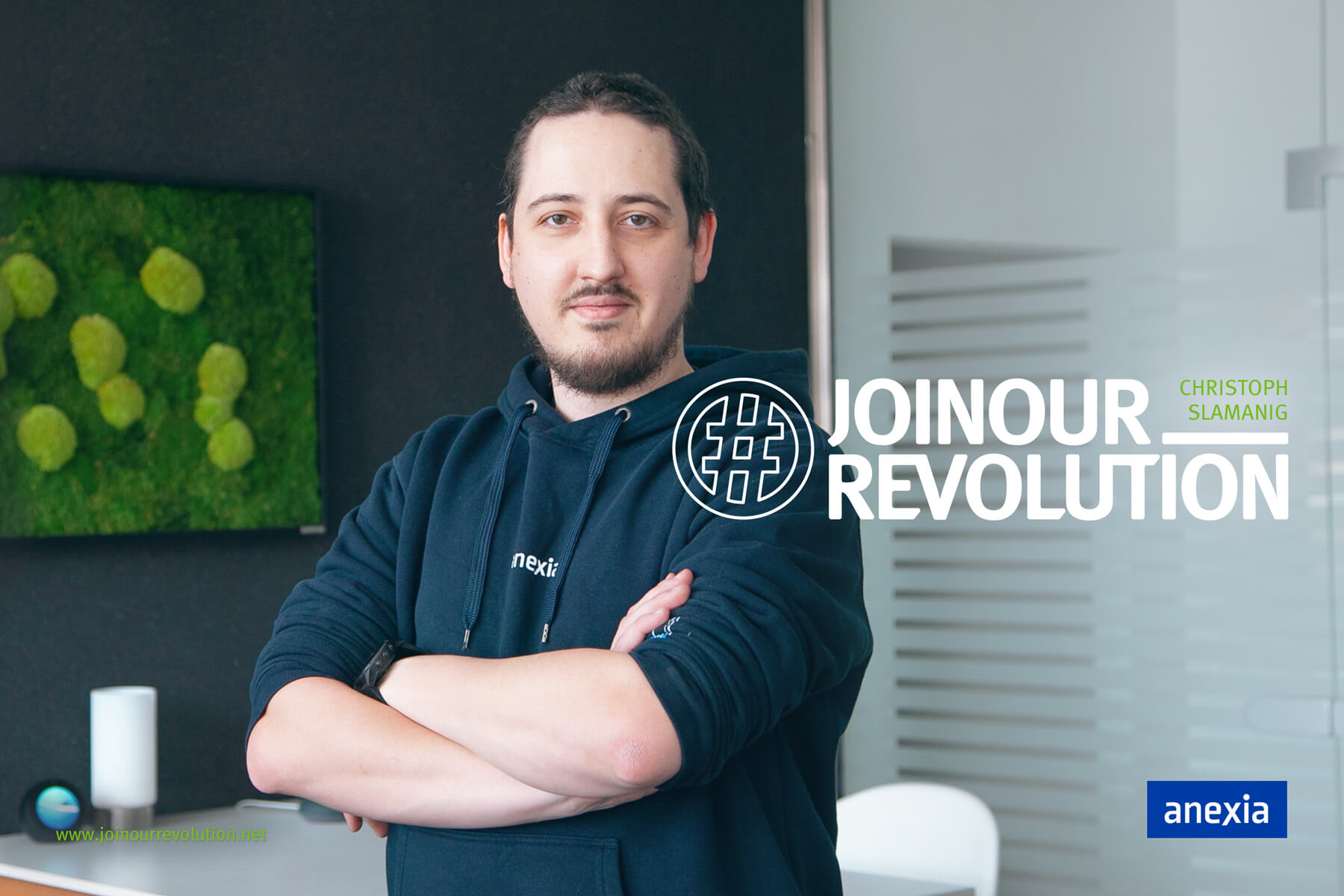 Hello! Introduce yourself: Who are you, and what do you do at Anexia?
I'm Chris, and I work at Anexia in the Software Solutions & Software Integration department, called 3SI for short. Here I am the technical lead for PHP, and I manage various external customer projects as well as internal projects. In the role of Technical Lead, I try to support my colleagues in their work. I am here to answer technical questions and define processes and workflows. In doing so, I coordinate with the Technical Leads of the other technologies in my department. If a new employee applies with expertise in a technology field for which I am responsible, I also do the interviews together with our head of department, Christian Pick.
Do you work in Teams?
We do have teams, but they are not rigid and with fixed affiliations. The department is roughly subdivided: the developers belong to Software Integration, project managers, and graphic designers belong to Software Solutions. The technical teams are purely technical, and as a Technical Lead, you're not necessarily in just one team. For example, I am part of the PHP-, and Python-Team. Depending on where you participate, you can belong to several Technology-Teams. A whole different story are the Sprint-Teams. They are led by project managers, but as Technical Lead, I am also part of these.
My work is very diverse because I can work with many different technologies.
What do you like most about your job?
I work with very chilled people. I don't necessarily know or hear that much from other companies. We get along very well, which is why I have a lot of friends here. What's also very good is that the work is very varied because I work with many different technologies. That also has downsides because sometimes it can be hard to concentrate on just one thing (laughs). One has to keep watch to not lose the thread. All in all, I feel very comfortable here.
Can you tell us something about the projects you've worked on?
For example, we built a lab software for a company. Imagine you are in a drugstore, and you see numerous hygiene products, such as shampoos, soaps, detergents, etc… Many of the items come from that company, and of course, these products must be tested for compatibility. Fortunately, no animal testing is done, but they do testing in Petri dishes and on humans. We have built software that records and documents these tests. If you knew about all the terms that I learned in this project, I've never heard before! (laughs) As a software developer, you always have to get to grips with the subject of the application you're building in order to understand the requirements better.
We also did a project for a real estate company that plans and manages shopping centers all over Europe. In it, I took care of implementing the front end of software that calculates how much turnover each tenant in a shopping center makes per m2 of retail space.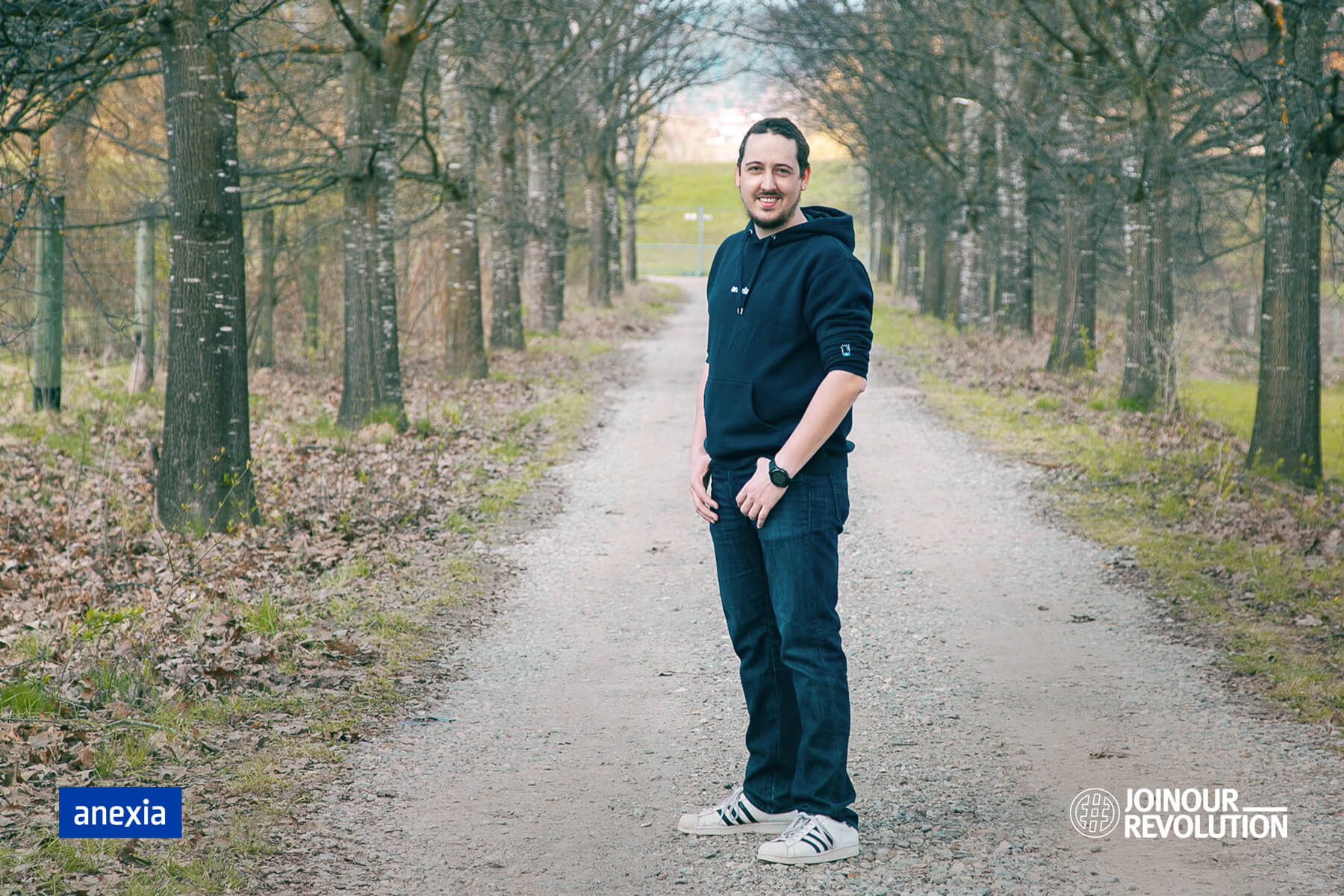 How was your start at Anexia 10 years ago?
I became aware of Anexia through an ex-colleague from my former company. He got in touch with me and asked how I was doing and whether I would like a new job. He and Alex Windbichler knew each other, so he put me in touch. At that time, I waited for a call, but it didn't come. At some point, Alex Windbichler finally called me and asked why I wasn't getting in touch. After we clarified the misunderstanding, everything went very quickly. Without a resume or cover letter, we met, chatted a bit, and I got the job. I submitted my resume sometime after the first month, but it's all much more organized these days.
Have your tasks changed since then?
At the end of the day, I'm still a developer. Now, a developer with quite a bit of experience, 10 years in this company alone. In the beginning, we did smaller projects for smaller customers. Today, there are projects for large and renowned companies that extend over several months or years. These also require more sophisticated ways of working, quality control, etc. As Technical Lead for PHP, I try to set professional working methods together with the other Team Leads and control their execution. I always liked explaining things, and now that's also part of my official duties.
Did you always know you wanted to do something in IT?
In a way, yes. Getting there was a bit of a detour since school, and I weren't the best friends. At first, I also went to a branch of school that sounded cool to the young Chris, but then it wasn't what I wanted to do: the HTL for structural engineering. On the one hand, it was cool because even now, I like to tinker with things outside of the technical field. On the other hand, it became very boring over time, and finally, I dropped out of HTL. At school, I was also very interested in IT and even wanted to become a game developer, so I started an apprenticeship after HTL and ended up here.
What has changed at Anexia over the last 10 years?
I started after Anexia moved from Gabelsbergerstraße to Schleppe-Kurve. There were completely different faces and a completely different combination of people back then. There was the software department, the technology department, and Steffi. She was accounting, human resources, and back-office all in one. Our department manager was project manager, department manager, and developer all in one. Now there are separate people and departments for all these tasks. Back then, everything was smaller, and not everything was logged and recorded as precisely as it is now. There was also no precise time recording. Compared to today, we were also a lot fewer people back then, and everyone knew everyone. This is no longer the case today, but of course, understandable due to the size and the current situation with COVID-19.
You can always come to me if you have a problem with someone. I will try to help, as far as it is in my capability.
You are a security trust person. What is that actually, and what do you do exactly?
That's right, I'm a Safety Confidential Person, or SVP for short, together with a few others. That means I keep my eyes and ears open for safety issues in the company. These include slippery carpets or sharp edges that need to be addressed. In the past, for other problems, there were trusted people to turn to for interpersonal problems. Or mailboxes where you could drop anonymous letters that Alex Windbichler personally read. In the meantime, we have Sli.do for these things. Today, all employees can turn to HR with their problems. They have open ears for everyone. Since you sometimes can't go to your supervisor because he or she is the reason you are struggling with, there used to be people who made themselves available to be elected as mediators. In the meantime, this has been somewhat forgotten, but I am still here for everyone. You can always come to me if you have a problem with someone. I then try to help, as far as that is in my power, without tattling on the person.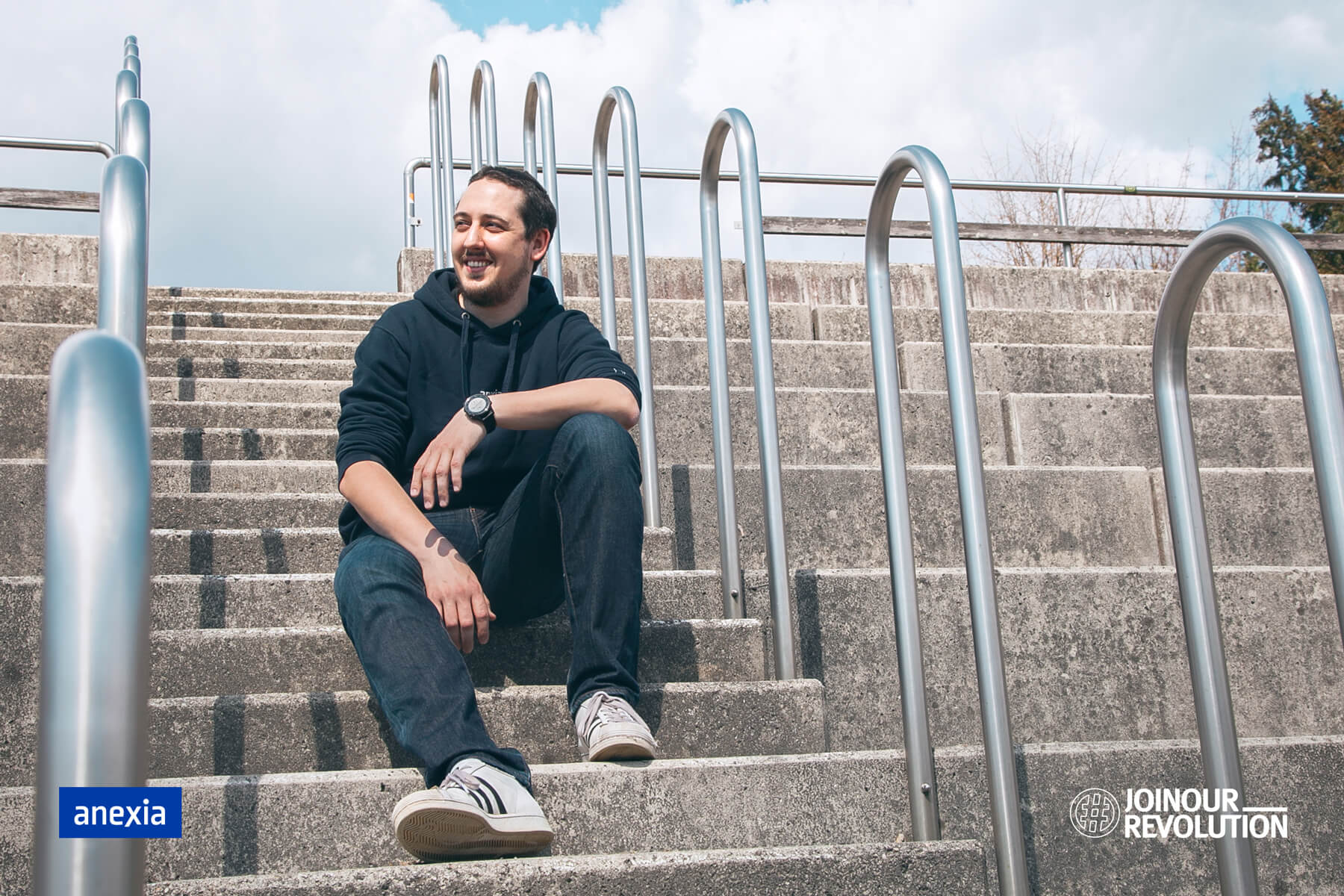 What have you learned to appreciate most about your time at Anexia?
The company is stable. Previously, I had terrible experiences with companies, both of which went out of business. At Anexia, it's the complete opposite; I have a good feeling here. The great colleagues are also an essential point contributing to why others and myself love working here.
You shouldn't shy away from new things and be open to new technologies.
What do you do in your spare time?
I like to do archery, play video games, play D&D, go geocaching, develop software and tinker around in my spare time. I love to assemble things, e.g., for archery. Or try my hand at electrical installations for the house. I try to build and fix things myself before giving them to someone else; I just enjoy it. I'm like a little Tim Taylor who gets hurt every now and then. (laughs)
Today's final question: What qualities should future Anexians bring with them?
Definitely independence, a willingness to learn, and the desire to continue learning. You should not shy away from new things and be open to new technologies. You should know your own limits and use the input of others to develop yourself further. Every now and then, you also have to learn a new technology if a customer project requires it. So you must keep learning in this job. I don't mean schooling by that. It's more like looking at the latest developments, versions, and software packages that might replace old versions and outdated concepts. If you don't keep up with new things, you quickly lose connection.
---
If you're someone who doesn't shy away from new things like Chris and is open to new technologies, #joinourrevolution and check out our job postings!