Our trainee at Ironman Hawaii
---
Our former intern, Christina, was able to qualify for this year's Ironman Hawaii on Big Island, which takes place next Saturday.
"The Ironman World Championship has been held annually in Hawaii since 1978, with an additional race in 1982. It is owned and organized by the World Triathlon Corporation. It is the annual culmination of a series ofIronman triathlon qualification races held throughout the world."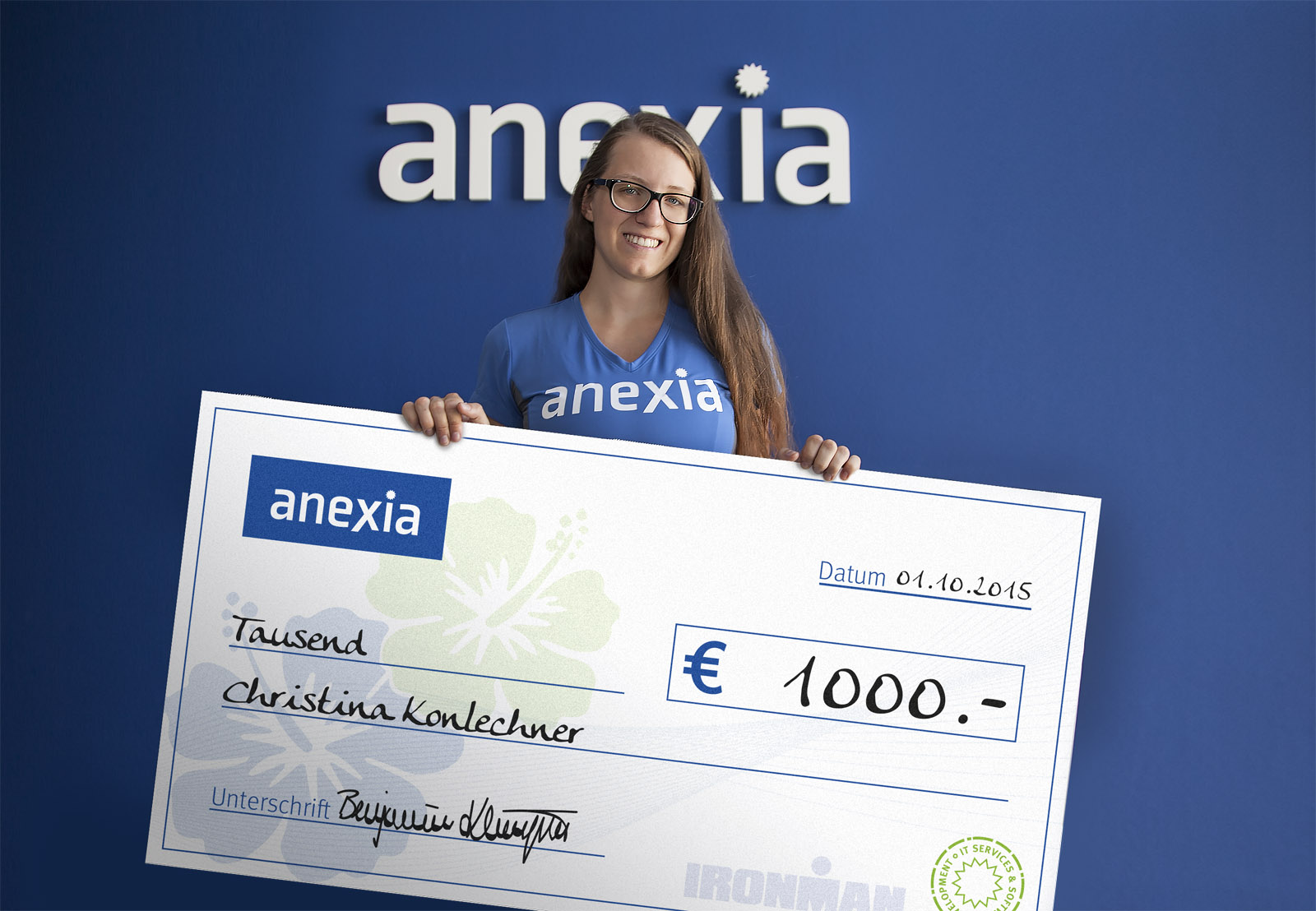 We were allowed to sponsor her and now she will keep us up-to-date with exciting blog posts and the latest photos. Christina has already arrived on Big Island and has written a blog post about her trip and her first impressions of Hawaii:
"Facts and Figures:
On Wednesday the race numbers were announced. I'll be at the starting line with number 2387 at the IRONMAN World Championship. More facts and figures: on October 10, approximately 2,300 athletes will find their way to the Pacific in order to make it to the World Championships. 28 Austrians will be competing — 5 of whom are women, one of whom, Eva Wutti, is competing as a professional (she was, incidentally, the winner of the IRONMAN Klagenfurt). Therefore, I'm the youngest Austrian and the only Austrian in my age group, F18-24. There are 31 women competing in my age group.
How I got the bike into the bike case and why it's important to bring something to eat from home on a flight halfway around the world.
I finished the last units before departure on the bike, because the weather played along nicely. I ran the half marathon in Moosburg as a training race and came in third overall and first in my age group, and also set a new personal best. That's where I got my motivational push for Hawaii.
On Tuesday I went to class and then I still had to pack – Manfred Kienzl was nice enough to lend me his bike suitcase and packed the bike into it in record time (and since then I have been able to successfully put it back together again).
One thing after another: our flight from Graz to Frankfurt on Thursday, October 1 was at 6:00 o'clock in the morning — think there wouldn't be any problems? Forget it: according to the woman at the airport's check-in, my bike was only booked through to Frankfurt. I knew that couldn't be the case, but after much stress and half an hour still nothing had happened, so I began to accept the prospect that I would have to pick up the bike in Frankfurt and check it in again. Since we had seven hours, I didn't see this as a big problem.
And that was it, the flight to Frankfurt was uneventful and we arrived safely at our destination. At our first destination, of 3—a third of the journey, anyway. I was proven right and it was good that we had seven hours: It took 3.5 hours to pick up the bike, to pick up our tickets for the connecting flights, and to check the bike in again, so only 3.5 hours more waiting — even that went relatively quickly — boarding began, and the place was already buzzing with people wearing IRONMAN backpacks. In Frankfurt we had 1 hour and 50 minutes to catch the flight to Kona.
Annoyingly we left Frankfurt with a 1.5-hour delay, a 10-hour flight instead of 12 — then we had 1 hour 20 in San Francisco — which wasn't really much time, because the Americans know nothing at immigration and customs. As for the flight itself: I'm glad that I still had apple bread, because plane food isn't great. Meanwhile, we were pretty exhausted by the journey and then the long queue in San Francisco. Fortunately, we were allowed to go through quickly since we had already been in the United States 4 weeks before. With countless waving through by the security guards and while running to the gate, we got there just 6 minutes before departure – made it! The plane then waited another 1.5 hours for the other 78(!) people from the Frankfurt flight, then took off but without everyone on board.
This flight went by pretty quickly in comparison, since we were so tired after more than 25 hours of travel and 2 connections that we only slept for almost 4 hours, and finally arrived in Kona – where Marina (Martin's sister) was already waiting for us — we were all so tired that we couldn't cry any tears of joy at the reunion (Marina has lived in Boulder, CO for a year).
Finally, we got to our apartment — and immediately realized that we booked well – a fantastic apartment, with all the bells-and-whistles, and then after getting up, we were even able to enjoy the view overlooking the Pacific Ocean — although we booked a garden view — which of course made it even better.
Then we started exploring Kona, excited about the arrival of my mom and brother on Sunday evening. Aloha Austria from nearly halfway around the world.
The first swimming and running tests
"It's not for nothing that the Hawaii IRONMAN is the toughest IRONMAN race…" Martin said to me today — he's right in a way, but let me start from the beginning:
After arriving very late on October 1, we spent October 2 shopping and walking along the beach — not so easy in the heat and humidity let me tell you, but perfect for acclimatization. While shopping we even discovered a small reptile on a watermelon. And in the evening we watched our first sunset in Hawaii. It's interesting that it gets dark immediately afterwards, because it's like there's no twilight.
We went to bed early, because on Saturday, October 3, exactly one week before the IRONMAN, we got up at 7:00 o'clock for swimming at the pier. It was great, if I may quote Marina: "It's like TV, only better!" She was right, too. I'm not really a fearless swimmer, I actually close my eyes when in open water — something about the water scares me. But today I was too curious: you really do see fish of all sizes, shapes, and colors – almost like in Nemo's aquarium ;-). We were swimming for just under an hour, and after I swam back to the pier, a SHARK (!!!) suddenly crossed my path – no lie. It was no 5-meter shark, but it was definitely a meter long and had obviously gotten lost near the pier — by the time I realized that it was a shark, it was already gone — luckily.
Then we had a little time before the shuttle went back to our apartment and so I sat down on the beach and tried to make the situation sink in — I still haven't been able to. In the mean time, Martin and Marina made their way to a coffee shop. Once in the apartment, we cooked something to eat, relaxed for a bit — and then it was time for an afternoon run. Only then did I really understand why it's the hardest IRONMAN. It's hot and the humidity just makes everything wet — not a nice kind of wet, but just a hot wet ;-). It's really difficult to describe, but in good Austrian German: "Like the soup's just running down!" After only our second day here, I'm still hoping I can get used to this incredibly weird combination of heat and high humidity.
So on that note: Aloha from Hawaii. ONE WEEK TO GO
Bike from Hawi (milestone in IRONMAN) to Kona (90 km), arrival of Mom and brother Christoph, Hapuna Beach and highway run
After failing rather miserably at running, I was already looking forward to cycling with the wind, and 90 km isn't that far. Thanks to my positive attitude, cycling went really, really well, especially after I heard that this route was difficult. It was almost even cold in Hawi, as it has been raining a bit. The scenery is beautiful, there was plenty to look at and there really was never a dull moment — first the smooth lava fields, then the rough — then you see the beautiful blue sea again.
I did really well and did the stretch in 3 hours and 12 minutes easily. In the evening, my mom and my brother arrived. I was so happy because their flight arrived on time and then it was hugs all around. The next day we went to Hapuna Beach — the largest white sand beach on Big Island. Again: gorgeous — somehow everything is storybook pretty there by default.
Tuesday was the highway run – the last 9.5 km of the Ironman marathon. WHAT a stretch — insanely hot, unimaginable for me. The wind makes it more bearable, but the humidity and the sun clearly have the upper hand here. Somehow I managed to torment myself to the "goal", thanks to Marina and Martin's help. In the Royal Kona Resort our travel agent organized a "Talk with the PROs" where we got fantastic tips for the race.
The rest of Tuesday was pretty chilled. It's only three days now. Until next time, ALOHA."
On her blog, you will also find current news about her stay and her experiences on Big Island. So you can share the thrills, virtually live, and keep your fingers crossed for her along with us! 🙂