This was the Year 2018
---
2018 was for Anexia – despite or precisely because of the change of internal processes – a successful year. The growth course was continued further. We intend to continue pursuing the goals and directions we set last year, in 2019. We are not sales-driven though, but strive to create sustainable values for our customers, employees and partners. We want to follow our mission to take responsibility for digital challenges in 2019, too.
Before we plunge into 2019 and its tasks, we want to look back together with you on 2018 and review this year with some figures: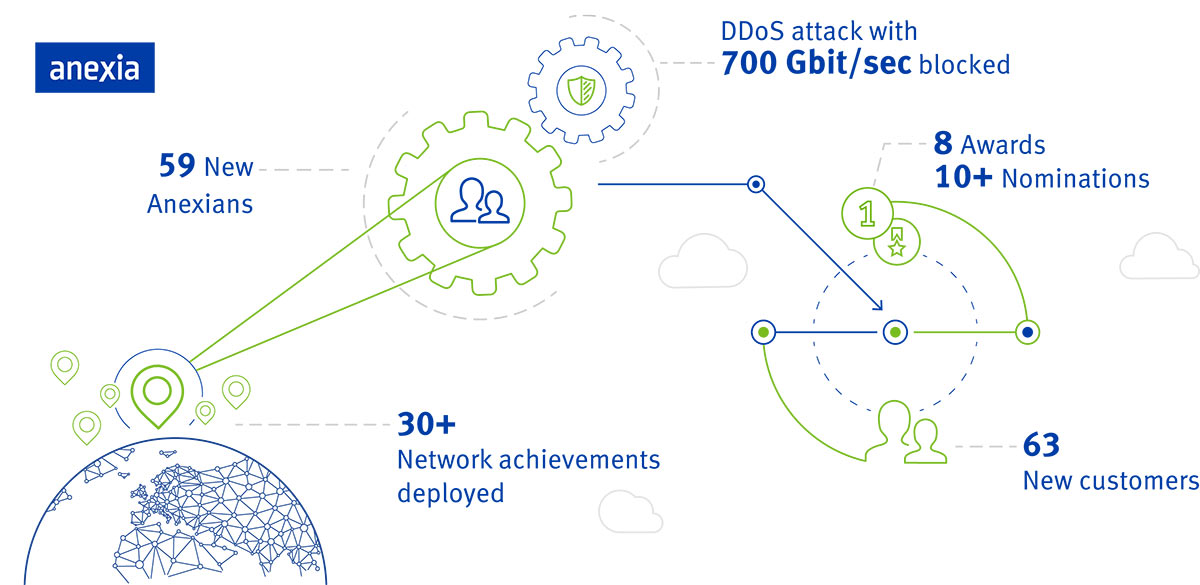 Awards!
Besides the thanks and the satisfaction of our customers and employees, it is a nice confirmation to see that our work is also awarded with prizes. Together with netcup we were nominated for more than 10 awards in 2018 and were able to win eight. Anexia achieved second place at the E-Commerce Germany Award in 2018 and convinced with the project Backbone Europe at the eco://award in the category ISP/Interconnection in autumn. CEO Alexander Windbichler was chosen as the middle-class hero. We are particularly honored that Anexia was awarded the Austrian coat of arms by the Federal Ministry for Digitization and Business Location in 2018.
Also, our sister company netcup stood out. At the Hosting Award 2018 netcup won the reader's choice in the category VPS/vServer. At the HOSTtest Webhoster of the Year netcup wins even three times: 1st place Webhosting, 1st place Managed Server and 2nd place Domains.

Backbone Europe and improved DDoS protection
With the project Backbone Europe, we have greatly expanded our European infrastructure and can now fend off DDoS attacks of up to 2Tbit/sec. The acid test for our new Backbone Europe took place in March 2018: Anexia was able to fend off the largest DDoS attack ever measured in Austria.
New customers
The growth course of Anexia continues. In sum in both divisions – Software Development and Hosting&IT – 63 new customers were acquired. These include private citizens as well as international companies and organizations such as AIDA Cruises, Harvard University, voest alpine and the German Aerospace Center.

Network & Infrastructure
Our network & infrastructure team never stands still. For 2018 there are 30+ points on their "List of Achievements". Among these are milestones like
Singapore Internet Exchange SGIX at the server location of Anexia
Creation of a new Juniper Blueprint
Onsite Upgrade of our PoPs in Dubai and Singapore
Consolidation of three sites in Sao Paulo to a new data center location.
But also smaller, effective projects such as
Turnup of our PTT IX.br Internet Exchange Port in Sao Paulo (NET-9)
Modernization of the server location in Tokyo.

New Anexians
In 2018 we passed the 200-employees-mark and remain stable above it. With a strong HR team, we are working on measures for new work concepts.
Once again, a warm welcome to our 2018 newcomers:
Timi, Jens, Elmar, Dominik, Markus, Randy, Michael, Michael, Alex, Daniela, Aigi, Stefan, Torben, Alex, Alex, Stefan, Tom, Janine, Lucian, Marko, Flo, Markus, Daniel, Wolfgang, Belinda (welcome back!), Anthony, Steph, Eric, Markus, Bernhard, Achim, Nikolai, Kevin, Peter Lagler, Michael, Georg, Darko, Christian, Alex, Jürgen, Nikita, Siggi, Martin, Marina, Pia, Matthias, Roman, Cathy, Katharina, Kati, Laszlo, Stefan, Stefan, Markus.
You can learn more about the Anexians in our regular #joinourrevolution interviews. This year we met:

Numerous sponsorships 2018
We are delighted to have been part of many exciting and groundbreaking organisations and events in 2018. As a Silver Partner of PeeringDB, we make it easier to find peering partners. At the Linuxtage in Graz the Austrian Open Source Community exchanged ideas and at the organization DigitalCity.wien we contributed to the education initiative with data center tours.
---
Thank you for your support and Happy New Year 2019!